Indie Noir Thriller Dispatch Readies Debut
Based on real experiences, director Steven Sprung and star Michael Bershad co-wrote the film as their first feature. Set in a seedy Hollywood limousine dispatch office on the night of a big movie premiere, Steven Sprung's Dispatch, from a script by Sprung and star Michael Bershad, depicts one night in the life of Nick, an overnight dispatcher with everything on the line.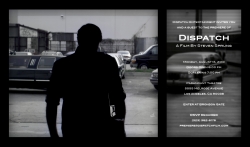 Los Angeles, CA, August 03, 2010 --(
PR.com
)-- Based on star Bershad's personal experience, Dispatch finds Nick, a fallen Hollywood success, battling celebrities, publicists, and producers as he dispatches his chauffeurs to the big premiere. It soon becomes one of the most devastating nights of his life when, after being served with divorce papers, Nick makes decisions which place him in the greatest of personal and professional jeopardy.
Financed and produced independently, Sprung and Bershad, who met while chauffeuring, spent two years writing the screenplay before principal photography commenced in the spring of 2009 in downtown Los Angeles. Sprung, an Emmy® nominated film and television editor ("Entourage," "Community," "Arrested Development") then edited Dispatch himself.
Sprung, Bershad, and their entire team anticipate big buzz and major distribution for Dispatch after its July completion. They will enter festivals, hold screenings and meet eagerly with any and all interested press throughout 2010.
Dispatch is sure to entertain, intrigue and inform as it presents an Angeleno for whom everything sways in the balance on one crucial night in that city that holds such promise.
Crew
Director: Steven Sprung
Written by: Michael Bershad & Steven Sprung
Producers: Michael Bershad, Angela Sostre
Associate Producer: Kevin M. Slee
Editor: Steven Sprung, A.C.E.
Sound Designer: Andy Hay
Director of Photography: Mathew Rudenberg
Production Designer: Mariano Rueda
Costume Designer: Samantha Kuester
Cast
"Nick" - Michael Bershad
"Harry" - Bruce Bohne
"Killer" - Blake Robbins
"Ace" - Tim Peper
"Oscar" - Harry Karp
"Lucia" - Melina Lizette
"Iceman" - Black Thomas
Dispatch has its world premiere screening on Monday August 16 at 7:00pm
(Doors open at 6:00pm)
Where:
The Paramount Studios Theater
Paramount Studios
5555 Melrose Ave.
Los Angeles, CA 90038
(Enter at the Bronson Gate)
RSVP:
Please RSVP as soon as possible to premiere@dispatchfilm.com RSVP is required for admittance, so please include all the names of your guests.
View information about the film, including the new trailer at
www.dispatchfilm.com
Press Release presented by unit publicist Scott Essman and Visionary Cinema.
###
Contact
Visionary Cinema
Scott Essman
626 963-0635
www.visionarycinema.com
626-963-0635

Contact