Denver Film-Video Production Co acting agent to Jack Putnam Wildlife Art Animal collection sale
Remember When, an award winning film-video production firm located in Denver, is currently accepting offers from wildlife art collectors and interior designers from around the world for the Jack Putnam Wildlife Art Collection. The collection includes what is credited as being the best-preserved, life-size polar bear mount measuring fifth largest in the world based on the Boone and Crocket Record Book.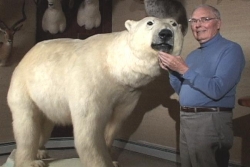 Denver, CO, December 21, 2006 --(
PR.com
)-- Remember When announces its association with Jack Putnam Wildlife animal collection and is faced with the task of selling the one of a kind collection. You may have seen Jack's work on display in many different museums of natural history scattered about the United States. Now you can own Jack's one-of-a-kind wildlife art collection that Remember When is currently accepting offers from wildlife art collectors from around the world. This is the perfect interior and wildlife designers dream come true. Owning the world's 5th largest polar bear mount, or the pair of bounding Stone Sheep ram mounts, winner of the Safari Club International Award is a true opportunity of a lifetime.
About Jack Putnam
Jack has worked with the Denver Museum of Natural History for 25 years designing dioramas. As curator of the Natural History Department, Jack traveled to many parts of the world including Alaska, Canada, Mexico, South America, Australia, New Zealand and Africa. -- First collecting, then preparing specimens used in these exhibits, as one can see in movies that can be viewed on web site-- http:/jackputnam.com
Jack has a thorough knowledge of the habitat and anatomy of his subject matter, and that has enhanced his innate artistic talents. He utilizes a unique knowledge of sculpting techniques, mold-making, and casting methods in the creation of sculptures and preserved mounts ... exact in proportion and detail ... and fluid with the motion of life
Jack's interest in art, his appreciation, respect and love of wildlife and the out-of-doors, emerged early in his life. It was in kindergarten that he first displayed skill in sculpting, producing detailed miniature clay models of animals. His first effort at taxidermy, at the age of eight, was to mount a squirrel without any instruction, using plain old ingenuity. Hunting trips with his father fostered his youthful interest in natural history and archaeology.
Upon graduating from high school, he was drafted into the U.S. Navy and served as an operating room technician in Hawaii, assisting during surgery. This gave him an excellent background in anatomy. Returning to Colorado after discharge, he was hired by Jonas Brothers in Denver. There, Coloman Jonas guided Jack's development through the various stages of the art of taxidermy. Jack was the first artist to actually position his animals in a flight and/or fight as seen in his nature dioramas currently at the Denver Museum of Nature and Science. After leaving the museum, Jack initially devoted all his time to creating art bronze sculptures and taxidermy of wildlife.
Remember When ™ became allianced with Jack when in the beginning stages of doing a PBS special and was so amazed at his story that their next mission was to offer his collection to the most appreciated buyer. The entire collection was filmed, consisting of 39 plus animals from all over the world. His lifetime of work, trophy room and collection can be viewed at: jackputnam.com
About Remember When™
"Matt and Fern do an absolutely wonderful job of helping their clients open up on tape, plus they are very sensitive and caring as they draw out special memories and discuss delicate feelings. And, therein is the art involved in this valuable process," explains Maggie Chamberlin Holben; one of Remember When's many clients. Subjects for Remember When™ Life Tributes tend to be in their 70s and 80s. As in Holben's case, it dawns on children and grandchildren that their elders have interesting stories to tell, tales worth hearing and remembering fondly in the years ahead.
Matt King (owner) and Fern bray (owner) bring extensive experience in the film production business to Remember When. From Disney and other Hollywood concerns, as well as production projects in the Denver area during their filmmaking and video production career business. Both King and Bray had a personal calling to the business. King was holding his own dad's hand when he died of pneumonia a number of years back. Whereas King only had the sound of his dad's voice left on an answering machine tape and the mere memory of his father's wonderful laugh, King is now making sure others have more and better options for preserving special family memories. Bray's motivation came from her own daughter asking questions about Granddad. Bray's father was one of the first clients to be interviewed more than 7 years ago.
"Good camera work is critical, however, a production's ultimate success depends on the interviewer's ability to truly engage a subject. That's where Matt and Fern's unique combination of talents qualify them to help families turn special life stories into personal videotaped treasures," Holben concludes. This isn't a project that someone should undertake on their own. Having the right tools doesn't a dentist make. Nor, does having camera, computer make a filmmaker.
Remember When's perfectionist attitude, as well as Jack's perfectionist nature and dedication to the details and science of his art will never be duplicated. And hence, a perfect fit was born.
All of Jack's specimens were collected, prepared and mounted by Jack. His work is simply priceless. One of the many examples of what to expect in Jack's animal collection is a Polar Bear-Life Size, given the 5th largest Mount by the Boone and Crocket world record back in 1965. Polar bears cannot no longer be hunted nor are hunting permits granted. Hence, owning Jack Putnam's work is likened to owning a collection created by one of the "great masters" to that of a DaVinci of taxidermy.
According to the stated mission: "Remember When™ is dedicated to the telling and preservation of all peoples history for our loved ones, and future generations." Projects focus on video film autobiographies and memoirs, special birthday and anniversary celebrations, family reunions, funeral services and family gatherings, memorial tributes, pet memories, photo montages and life tributes. DVD authoring and 16mm and 8mm transfer are also included in the services offered.
"This is such a giving thing," King said in a newspaper interview many years ago. "Ultimately, we're just trying to help honor a human being's stay on the planet." "To be able to represent Jack Putnam in such a beautiful way is ultimately what Remember When™ is all about.
Jack Putnam's Wildlife Art-Taxidermy Collection will be sold in one lot and is certain to be acquired quickly. Your immediate attention is required to be able to purchase this collection so that you may claim this unique, rare work created by "Jack Putnam" as your own.
Remember When™ has been featured in both the Denver Post and Rocky Mountain News.
Contact and Viewing:
Matt King
Remember When
Phone: 720-859-1122
http://www.rememberwhen.com
http://www.jackputnam.com
task@qwest.net
###
Contact
Remember When
Fern Bray or Matt King
720-859-1122
rememberwhen.com
3596 Moline St. Suite #101
Aurora, CO 80010

Contact