The Hunting Broker Provides New Options for Hunters and Outfitters Alike
The Hunting Broker is a membership site designed to provide the best hunting opportunities for hunters and the best value to hunters and outfitters alike.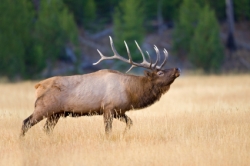 Clackamas, OR, September 10, 2010 --(
PR.com
)-- The Hunting Broker was founded as a full service hunt consulting company to pair hunters with pre-qualified hunting outfitters and guides. The Company provides access to high quality guides and outfitters throughout North America. In order to provide assurance to hunters, the Company requires that all of the outfitters represented submit to their "Outfitter Quality Assurance" questionnaire.
Most hunting consultants charge their outfitters a percentage of each hunt they book, much like any manufacturer's representative or commissioned sales person. The Hunting Broker has changed that model to provide outfitters a different option. Outfitter members pay an annual fee, plus donate a hunt every five years for their disabled hunting program and member giveaways. In return they receive benefits which include guaranteed hunt purchase if a hunter cancels their hunt and trade show representation nationwide.
On the other side of the coin, hunter members of the Company pay a small annual fee of $50 and in return receive benefits which include guaranteed hunt deposit returns, entry in to monthly hunt giveaways, and support for the Company's disabled veteran and children hunting program.
For questions regarding all your hunting needs, please call - 503.956.5071. Or visit their website at www.thehuntingbroker.com
###
Contact
The Hunting Broker
Bob Russell
503.596.5071
www.thehuntingbroker.com

Contact