Richardson Global Releases Online Cultural Assessment Tool: The Cultural Style Inventory (CSI)©
Richardson Global announces release of online cultural assessment tool, The Richardson Global Cultural Style Inventory (CSI). This tool provides individuals and organizations with information on cultural style preferences to improve Cultural Quotient (CQ) and enhance cross-cultural interpersonal and business effectiveness.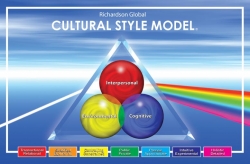 Hamilton Square, NJ, January 10, 2007 --(
PR.com
)-- Richardson Global, an international training and development firm with offices in Belgium and Singapore, announced today the release of the online version of its proprietary Richardson Global Cultural Style Inventory (CSI)©.
This 75-item questionnaire, based on the Richardson Global Cultural Style Model© provides users with personalized profiles identifying the strength of their cultural style preferences in seven distinct and validated areas of culture, as well as the strengths and challenges associated with each preference and recommendations for improving interactions with individuals with different cultural preferences.
The CSI© can also produce customized aggregate reports allowing users to compare and contrast cultural style preferences for up to four groups simultaneously – an extremely useful tool for team and organizational development.
Upon release of the instrument, the creator of the CSI©, Dr. Richard Punzo, President of Richardson Global, stated, "We are very pleased with this public release of the CSI©. It has taken us seven months to convert the instrument from a paper and pencil assessment to a comprehensive online tool. The instrument provides immediate feedback to users and is an essential component of all of our cross-cultural training interventions. Not only can the individual user obtain an immediate personal report online, but the customizable aggregate report format provides organizations with valuable information regarding cultural style distributions within and between groups. This instrument does for culture what the MBTI does for personality."
For additional information, contact info@RichardsonGlobal.com or visit http://www.RichardsonGlobal.com.
###
Contact
Richardson Global
Dr. Richard Punzo
609.838.2741
www.RichardsonGlobal.com

Contact