Thanksgiving and Christmas Dinner Will Impress This Year with a Hickory Chip Smoked Whole Goose Available Only from Schiltz Foods
Schiltz Foods, America's largest goose farmer, introduces a hickory chip smoked whole goose for the 2010 holiday season.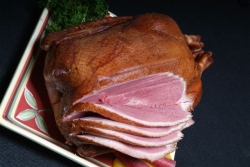 Sisseton, SD, October 20, 2010 --(
PR.com
)-- Schiltz Foods of Sisseton, South Dakota, the largest goose farmer in America, is proud to introduce a food product that is new, different and as exciting as it is flavorful. A hickory chip smoked goose is now available whole and ready to carve for this year's holiday season. The perfect smoky flavor and fork-tender texture of this holiday goose is the result of a technique developed over several years by Schiltz Foods, Inc., its exclusive distributor. The goose is delicious regardless of the serving temperature: ready-to-eat from the refrigerator, served at room temperature, or, the preferred method for
Thanksgiving and Christmas dinner
, warm from the oven.
The rich dark goose meat takes on the hickory smoked flavor beautifully. It is tender and succulent any way you slice it, and it complements practically anything that accompanies it. Try it with chutney. The hickory chip smoked goose makes a wonderful entrée to a meal, a completely different kind of hors d'oeuvre, or even slice it for sandwiches. Because the goose is fully cooked, the fat has already been discharged so there are only traces underneath the skin.
The whole smoked goose ranges in size from 6-lbs. to 10-lbs. The cost is approximately $7 per pound and is shipped in ice directly from the Schiltz Farm in South Dakota. Shipping is additional.
The Schiltz Farm
hickory chip smoked whole Goose
is available exclusively through the Schiltz Farm website:
www.roastgoose.com
.
Heating the Whole Goose
Thaw if frozen. Remove goose from wrapping. Do not remove the tie-backs on the legs. Place the goose on a flat pan or roasting pan without a rack, and heat at 350-degrees for one hour. Carve as you would any whole fowl.
About Schiltz Foods
Originally founded in 1944, Schiltz Foods, Inc. is currently the largest producer of goose in all of North and South America. Schiltz Foods, Inc. is a family run business with Marlin Schiltz, his wife Kathryn Schiltz and their two sons, Richard and Jim all taking a hand in the day to day operations at their family farm located in Sisseton, South Dakota.
Under a federal label,
Schiltz Foods, Inc.
ships their farm fresh goose products to customers in all fifty states. Schiltz Foods, Inc. raises a distinct breed of goose, registered with the Department of Agriculture, Schiltz Line 306. With a knowledge base accrued over two generations, Richard and Jim Schiltz boast a thorough knowledge about geese, which is evident in their superior food product.
###
Enclosure: jpg image of the whole and sliced hickory chip smoked goose
Contact
Schiltz Foods, Inc.
Howard Helmer
212-759-1811
www.roastgoose.com
Schiltz Family Farm
Sisseton, South Dakota

Contact