Edmonton Philanthropist Jesse Willms to Donate Hundreds of Toys to Needy Children for Christmas
Jesse Willms announces his charity initiative for the Christmas season. This includes giving hundreds of toys to children who are less fortunate at Christmas time.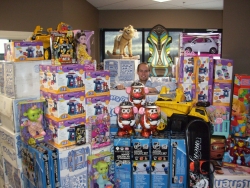 Anaheim, CA, October 26, 2010 --(
PR.com
)-- Jesse Willms, a noted local businessman turned philanthropist, announced today that he is going to give hundreds of toys to the Santas Anonymous children's charity in time for Christmas.
"I can't imagine how horrible it would be to be a child who woke up on Christmas morning without any presents," Willms said. "I am going to do my best to help make sure that does not happen to any child in my city this Christmas."
Santas Anonymous was founded in 1955 with the goal of distributing as many Christmas presents to needy children in Edmonton as possible. It started out as a very small organization but has grown to the point where it now wraps and delivers more than 25,000 presents every Christmas Eve.
"Since I started trying to help out my community my focus has always been to find organizations that help children,"
Jesse Willms
said. "I can't think of any other local organization that I would rather support during the holiday season."
Willms is a famous Internet entrepreneur. He started his first business when he was 16 years old in his basement. Within six years he had grown it into a multimillion-dollar business. Earlier this year, he was inspired by Bill Gates and Warren Buffett to start giving back to the
community
. Since then, he and his staff have spent a great deal of time and energy researching and partnering with various charitable organizations including World Vision and the Kiva Foundation.
"I have to say this has been the most fun I've had helping out any charity so far," Willms said. "Every morning I drive out to the local toy stores, fill up my car with as many presents as I can and then bring them back to my office. We already have several hundred toys in here, and I plan to buy a lot more."
Willms said his staff members have also joined in the fun and contributed their own presents to the growing stash that is filling up his office building.
"That's the way things work," Willms said. "Once one person starts giving, other people get inspired to give as well. It plays forward because deep down most people want to be good and do what they can to help the community."
Willms said that once his office can no longer fit any more toys, he plans to rent a large truck and drive them all down to the Santas Anonymous headquarters.
"If nothing else, I know I won't have the Ghosts of Christmas Past, Present or Future haunting my dreams this year," Willms said. "And I don't need Cindy Lou Hoo to show me how to carve the roast beast."
To check out pictures of the office full of toys,
click here
###
Contact
Jesse Willms
Dana Wong
866-521-8877
jessewillms.com/?p=269

Contact