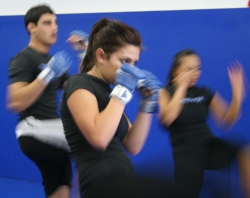 Orange County, CA, October 30, 2010 --(
PR.com
)-- Each year, fitness fanatics set new goals and seek the latest way to burn fat and "get into the routine." The developer of TACTIX wants his workout to be popular for New Year's Resolutionist. TACTIX claims to be a balanced combination of modern martial arts, fitness boot camp intensity, sports conditioning body weight exercises, dynamic flexibility and practical self-defense. This combination of exercises is done for one hour, two or three times per week.
To get a jump on the new year, the global launch of TACTIX occurred on October 26th, 2010. Just following the launch, fitness trainers and martial arts instructors from around the world began their training to operate their own TACTIX business. By January 2011, TACTIX fitness classes should be popping up in local communities.
"TACTIX is fun and effective exercise. There are no wasted movements and every second counts," say TACTIX creator, Dr. John Spencer Ellis. He adds, "People want it all in a workout. They want to have fun. They want to burn a lot of calories. They now realize how important it is to do functional movements, and people don't want to waste their time. TACTIX can provide them with these essentials."
According to Ellis, there are still opportunities for people to become certified TACTIX instructors. If you are interested in become an instructor, you can visit their site at
http://www.tactixmethod.com
. Consumers can look for TACTIX classes in their areas in January of 2011.
###