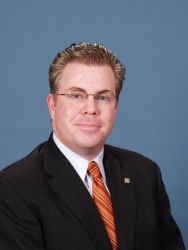 Jacksonville, FL, January 17, 2007 --(
PR.com
)-- The Grimes Companies (TGC) is pleased to announce that Ike Sherlock has joined the company as Director of Fleet Operations for its subsidiary Grimes Trucking Company (GTC).
Sherlock's primary responsibility is the general management of the trucking operations, with a focus on safety, increasing of operational capacity, and the development of new opportunities. GTC expects to expand its fleet operations in 2007 to service the continental United States. Additionally, by coordinating with other subsidiary companies Sherlock plans to develop new business relationships that focus on supply chain optimization, taking advantage of TGC's full complement of warehousing, packaging, and transportation services.
"I have known Ike for many years. His professionalism and attention to quality has always been a consistent factor in our business relationships. It had long been my hope that we would have an opportunity to bring him onto the team at Grimes and we are excited that the right position became available," said Michael S. O'Leary, President, The Grimes Companies.
Sherlock began his logistics career with Greatwide Dedicated Transport, an asset based carrier. He advanced through Greatwide and several of their sister companies quite rapidly, ultimately managing the start-up and ongoing operations of two of their largest hubs. Sherlock spent several months at TGC working in their non-asset based subsidiary, Grimes Transportation Brokerage, before finalizing the move to GTC.
Sherlock is a native of Alabama and is a graduate of Troy University. He is a member of the Rotary Club of West Jacksonville and was a founding member of the Rotary Club of Baker County. He and his wife Jennifer have three sons, Anthony, Hazen, and Connor.
The Grimes Companies, with offices in Florida and Maryland, operates both public and contract warehouses, as well as providing transportation and packaging services to its clients. Another subsidiary of The Grimes Companies, FileSafe, Inc., offers document storage services to businesses in Northeast Florida.
###