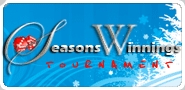 Johannesburg, South Africa, November 09, 2010 --(
PR.com
)-- The
Seasons Winnings Tournament
is a festive promotion that has been designed in line with an advent calendar. We all remember the joys of the advent calendar when we were growing up, now Red Flush has brought the advent calendar to life again, with
online casino
rewards hiding behind each window instead of chocolates or toys. This promotion is set to keep their players entertained over the silly season, and also hopes to give something back to their patrons who have more than likely been very loyal to the casino throughout the year.
Players can access the advent calendar via the promotional website and can see what promotions lie in wait for them on which days. Each day has been carefully thought out and is offered in line with other ongoing
promotions
and
tournaments
that one can find within the Red Flush online casino. Red Flush's sister casino: Casino La Vida has also been included in this year's festivities, making this a "family affair" for the casinos from the
Club Red Gaming
group.
Registration for the event is already open, and players can expect the festivities to kick off from the 15th of November 2010.
###