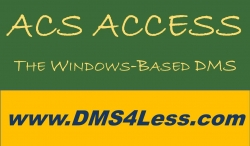 Mobile, AL, November 10, 2010 --(
PR.com
)-- Windows® Based ACCESS Dealer Management System (DMS) upgrades ACSFirst with new Color F&I Menu and Disclaimer
"It's all about listening to our customer's need," explained Van Koppersmith, President of ACS. "When we first included F&I menus several years ago they were pretty basic. Today, there are many opportunities to use the tools Windows gives us to meet our customers' requirements. Our customers told us that color F&I menus would help them sell and in turn make more money. Profitable customers are happy customers." This enhanced F&I Menu is a free upgrade for ACS ACCESS DMS dealerships, and is unique in that it is an integrated part of the F&I screen, rather than a separate application. This allows an accurate push/pull of all financial terms and amounts.
Menu Selling Plus Color
To assist dealerships in creating a more visually appealing presentation for their customers, Menu Selling Plus has been enhanced to allow color printing of both the proposal and the disclaimer.
When printing on a color printer, the package proposal columns will print in blue, red, green, and yellow in succession. These columns are clearly defined and separated. The new menu allows up to 14 products to be displayed in each column. The number of products available is unlimited.
The improved disclosure statement prints in blue the products accepted and the products not accepted in red.
About ACS:
Founded in 1992, Automotive Computer Services, Inc. (ACS) offers dealers ACCESS®, a comprehensive, fully integrated Windows-based Dealer Management System. ACS is a Microsoft Automotive Retail Solutions partner providing Microsoft based solutions to dealerships throughout the United States.
For more information, visit the ACS web site at www.acsaccess.com
To view the Video Library go to: www.DMS4less.com
Or call 1-800-ACS-8187 Prompt 7 for more information.
Contact Information for this news release:
Tom Edwards
National Sales Manager
Automotive Computer Services
Tom@emailacs.com
1-800-227-8187 Prompt 7
###