ePlus Marketing Expands Services and Launches New Site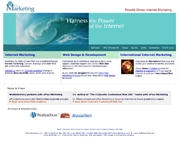 St. Louis, MO, January 23, 2007 --(
PR.com
)-- ePlus Marketing, a full-service Internet Marketing and Web design firm has expanded its services and launched a new Website. The firm, located in St. Louis, Missouri, now expands their services in international Internet marketing, Web globalization and Web analytics. Their new site at
http://www.eplusm.com
fully describes these services.
"We've been involved with international marketing and Web analytics for some time, but now through some of our partnership arrangements and experience we can widen our offerings in these areas," explained Patricia Hughes, founder of ePlus Marketing.
The firm has partnership agreements with AAA Translation, Dr. Arun Pereira and WebSideStory. AAA Translation provides foreign language translation, as well as assistance with Web Globalization. Dr. Pereira, co-author of The Culturally Customized Web Site provides consultation and collaboration with developing sites that are culturally customized for a given target audience within a foreign country. WebSideStory provides a web analytics program which is the measurement of the behavior of visitors to a website to improve the site's performance.
The new website gives more detail information on the partnerships and on how these services can help a company improve its online marketing efforts. All of the services have been added to help lead generation, corporate or ecommerce sites improve their overall performance. The site features a blog which gives weekly tips and comments on various Internet marketing tools and techniques. In the near future it will offer white papers and case studies which will outline strategies and solutions for various online marketing situations.
While ePlus Marketing has expanded services, partnerships and it's Web site, the company has also redesigned their logo and developed a new tag line.
"Results Driven Marketing" is the company's new tag line and the theme of the new site is "Harness the Power of the Internet". Ms. Hughes explains that the new tag line and theme reflects what the company is all about.
"Everything we do is about driving results. We look at the return on investment for every project. Our Website theme of harness the power of the Internet is another focus for us. It's not just a catchy phrase but our philosophy. We educate our clients on how they can utilize multiple Internet tools, tactics, programs and strategy to market to their clients and prospects in way they could never do before, which in turn will greatly effect their bottom line," stated Hughes.
According to Ms. Hughes, most companies use only a fraction of the Internet's true power. By adding the appropriate analytics program a company will have better information on the site's performance which aids in making improvements to the site. Since North America makes up only 30% of all Internet users, targeting to other countries can quickly improve a site's return on investment.
The firm works with such clients as Solutia, World Trade Center – St. Louis, Taylor Scientific, Access Denied Systems, Inc. Associated Couriers and others.
For more information on the St. Louis based company go to http://www.eplusm.com
###
Contact
ePlus Marketing
Patricia Hughes
314-569-9880
eplusm.com

Contact