Rosalind GeNe Collection Heats Up the Runway for Mercedes-Benz Fashion Week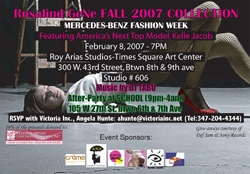 New York, NY, January 25, 2007 --(
PR.com
)-- On February 8th, Rosalind Gene Collection Fall 2007 heats up the runway with her fashion-forward, street-sophisticated couture clothing line at Roy Arias Studios -Time Square Arts Center, at 7 p.m. sharp.
The designer entitled the collection "All Walks of Life" with the attempt to capture the audience's attention with items ranging from street-chic to sexy-chic. Attendees will witness a playful mix of prints and plaids, exotic animal prints, metallic leather and more. This collection will indeed show the designer's use of exclusive fabric combinations.
"I've worked so hard on this line and I'm so happy this day has finally come," states the talented designer. This is Rosalind Gene's first debut for Olympus Fashion Week. Prior, the designer showcased her line in Baltimore in 2004 and following that in 2005 in New York. Hosted by America's Next Top Model Kelle Jacob, sponsors for the event include: S-N-S Car Service, Crème Magazine, Plaztik Magazine, YBF Blog, Barraka Jewelry, Red Bull, and M.A.C Cosmetics.
About Rosalind Gene Collection, LLC
Rosalind Gene Collection is a fashion forward, sophisticated street-couture clothing line geared toward men and women who project their individuality through their clothes with a classic, yet modern edge.
###
Contact: Angela Hunte
Victoria Inc.
(347) 204-4344
ahunte@victoriainc.net
http://www.rosalindgene.com
Contact
Rosalind GeNe Collection
Angela Hunte
347-204-4344
www.rosalindgene.com
Please RSVP for this event. VIP Reception will be held from 5:45-6:45pm. Show starts at 7 p.m. sharp.

Contact