Christine Luttrell Receives CS3 Technology's President's Award
High productivity, community service and commitment to teamwork exemplified Christine Luttrell's dedication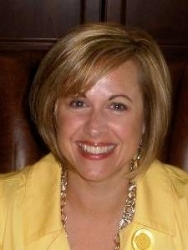 Tulsa, OK, December 07, 2010 --(
PR.com
)-- CS3 Technology, a leading professional services firm offering HRMS and ERP applications to businesses across the country, is pleased to announce their employee awards presented at their annual corporate retreat.
Christine Luttrell was honored with the President's Award, the top recognition reserved for the employee consistently exhibiting outstanding performance. Christine is in the Dallas office where she works with businesses to evaluate their current business processes and make an appropriate application recommendation. In addition to exceeding revenue goals, Christine was installed as the as the president of the 2,200-member Dallas Human Resource Management Association (DHRMA). She has brought a wealth of experience and strategic vision to the DHRMA. Internally at CS3 Technology, Christine plans activities that foster team building among employees in all of the offices. She also contributes articles to the monthly client newsletter that focus on team building and behaviors.
"We have so many talented people in our company who give 150% every day," said Christine. "It is an honor to work with them and to have been selected for the President's award."
Additional award winners are:
· Brandi Clymer – Behind the Scenes Award, which recognizes commitment to internal projects
· Jim Scheithauer – Personal Achievement Award for his completion of his MBA
· Shawn Slavin – Community Service Award for his leadership in the Information Technology Alliance and volunteer work with the Salvation Army
· Judy Stanfield, Chris Luttrell, Cindi Kessock and Darrell Scott – Success Awards, recognizes revenue and sales goals attainment
"Our annual corporate retreat is a time for our team to get together and celebrate the past year and prepare for the upcoming year," said Gary Crouch, CS3 Technology's CEO. "We spend time reviewing our strategy so everyone is moving in the same direction." Additionally, CS3 Technology has a speaker come present to their team. This year, Ed Kless, Sage North America's senior director of partner strategy, presented a workshop entitled "Extraordinary Customer Experience." The workshop is designed to explore ways that CS3 Technology can deliver an extraordinary experience for its customers.
"I am proud of all of the award winners and our entire CS3 Technology team," said Gary. "Our team is top notch and committed to improving every year."
About CS3 Technology
CS3 Technology offers complete business management consulting services to companies wanting to increase internal efficiencies through proven technology applications. CS3's two-pronged approach features up front due diligence ensuring a proper recommendation and a detailed methodology ensuring a successful implementation. CS3's background spans several decades of experience centered on business processes, , employee benefits and information technology. Our consultants have a shared skill set of relevant experience and product expertise. CS3 has selected to work primarily with products developed by Sage. Most recently CS3 has been recognized with the elite President's Circle recognition from Sage and recognized nationally as a Technology Pacesetter. CS3 is committed to maintaining the highest ethical standards and professional growth through its active involvement in the American Institute of CPAs, the Information Technology Alliance, the Sage Software Leadership Academy's Alumni Association, the HRMS Group and the Oklahoma Society of CPAs. For more information please visit
www.cs3technology.com
.
###
Contact
CS3 Technology
Gary Crouch
877-496-1600
www.cs3technology.com

Contact