New Hercampuri Herbal Supplement from Amazon Botanicals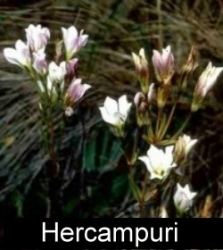 Newark, DE, January 29, 2007 --(
PR.com
)-- Amazon Botanicals manufactures a new herbal supplement from the
Hercampuri
plant. Hercampuri is a herbal plant from Peru with a long tradition of use as a liver detoxifier and weight-loss aid.
A preclinical study of Hercampuri at the University Nacional Mayor de San Marcos (Rojas, L., 1999); concluded that the extract of Gentianella alborosea "Hercampuri" produces a reduction of body weight. Hercampuri has been an important cleansing plant since the time of the Inkas. The word Hercampuri is derived from the Quechua language of the Inkas and means "the one that walks from town to town", making reference to the Inkan doctors who walked from town to town treating patients.
Hercampuri has a great amount of bitter compounds that stimulate the bilary acid secretion and as a result cleans and strengthens the liver. A better functioning liver aids overall health, reduces the over production of cholesterol and promotes weight loss.
Amazon Botanicals LLC is located in Newark, Delaware, with South American operations based in Peru and manufacturing facilities in Canada. They are the premier manufacturer and bulk supplier of Amazon and Andean sourced botanical extracts and herbs. They select their ethically wild crafted botanicals themselves and do not purchase them through a middle man. This ensures the highest quality control and most potent source botanicals. Their products are hand-crafted in small batches within weeks of the plants being harvested and are guaranteed to be full-spectrum fluid extracts, made from whole plants, just as they occur in nature. Their tested and proven botanical products can make a difference in your life.
###
Contact
Amazon Botanicals LLC
Cameron McDougall
877-854-6760
www.amazon-botanicals.com

Contact