Quad Pods – Online Store Grand Opening - Free Shipping of Video Camera Stabilizers and Steady Pods
Quad-Pods.com announced the grand opening of their new online store for both retail and wholesale customers. Tom Barrera, the inventor, mfg, recently announced his a new line of Video Camera Stabilizer Systems called Quad-Pods. The complete line will include steady pods for professional videographers as well as consumer level video enthusiasts. The store will be open to both retail and wholesale customers by offering quantity discounting for resellers, distributors and online merchants.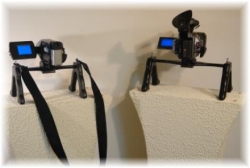 Clifton Park, NY, January 30, 2007 --(
PR.com
)-- Quad Pods Online Store Now Open Free Shipping, Free Shock Strap* to first 100 customers.
Quad pods are the most versatile video camera stabilizers to hit the market in years. They simply go and do what many other stabilizers can't.
The Dual Grip design allows the Videographer more angles and range of motion. Two hands are better than one and far more comfortable. You can shoot from floor level all the way to up to and over your head. Instead of using rigid shoulder braces and body belts, Quad Pods need only a shoulder straps or shock strap for support thus providing stability plus maneuverability.
Tri-mono-pod mountable. Unlike steady cams and shoulder stabilizers, Quad Pods can be mounted on tripods and monopods so you can deliver a smooth and steady cinematic look to your videos even when you're on the go. This is one of the best features of their steady pods. More shooting options quicker. Go from mobile to tripod and back in a snap.
Shooting video is like playing golf. You could play 18 holes with 1 club but wouldn't score well. The same is true when shooting video. Real world situations call for a variety of tools and techniques. The more clubs or tools you have the better you will be.
Add more clubs to your bag with a *Quad Pod Pro
You can go to the online store or order by phone 518-371-9616.
Tom Barrera
www.Quad-Pods.com
518-371-9616 quad.pods@yahoo.com
Retail and wholesale customers are invited to their grand opening to purchase any of their new Video Camera Stabilizer Systems called Quad-Pods.
###
Contact
Quad-Pods.com
Tom Barrera
518-371-9616
www.quad-pods.com

Contact