Jesse Willms to Provide Christmas Dinner Through the Edmonton Christmas Bureau
Jesse Willms is excited to be personally delivering his Christmas Bureau hampers that he has shopped for, stuffed and wrapped himself. The hampers will be given to less fortunate families around the Edmonton community.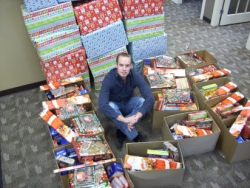 Edmonton, Canada, December 17, 2010 --(
PR.com
)-- Local businessman,
Jesse Willms
, is extending his charitable efforts by providing 15 Christmas dinners for less fortunate Edmonton families this year. The budding philanthropist is doing so through the food hamper program of The Christmas Bureau – one of Edmonton's longest running charitable organizations.
"Everyone should be able to sit down to a good, healthy traditional Christmas dinner," Willms said. "It's something most of us take for granted but which is out of reach for people who have fallen on hard times. I want to help out where I can."
Willms will be providing food hampers for 15 families of approximately six people each. He and a member of his staff will personally deliver the hampers to the families on Christmas morning. The Christmas Bureau selects the less fortunate families and provides their addresses. This way, two people who are donating can deliver the hampers personally.
The hampers include a full Christmas dinner including:
· Turkey
· Ham
· Vegetables
· Potatoes
· Cranberry sauce
· Soup
· Coffee
· Peanut butter
· Cookies
· Candy
· Marmalade
· Stuffing
· Butter
Willms is a well-known local businessman and philanthropist. He started his first company when he was just 16 years old and turned it into a multimillion dollar business by the time he was 22. Then, earlier this year he was inspired by the words of Bill Gates and Warren Buffett to start helping make the community a better place.
"I want the people of Edmonton to have the very best Christmas dinner possible," Willms said. "This is the season of giving, and the people at The Edmonton Christmas Bureau make it possible for you to directly help other people enjoy the taste of Christmas."
###
Contact
Jesse Willms
Dana Wong
866-521-8877
jessewillms.com/?p=269

Contact