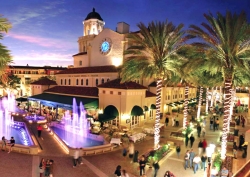 West Palm Beach, FL, January 10, 2011 --(
PR.com
)-- Anti-aging product retailer Mango Madness Skin Care has announced plans to expand its retail presence in Florida with a new anti-aging skin care products store in the CityPlace shopping center in West Palm Beach, Fla.
A grand opening is scheduled in February 2011.
Mango Madness Skin Care is a Florida based retailer that caters primarily to the anti-aging skin care needs of middle aged and older women. In addition to its skin care line, the company offers a broad assortment of tropical themed bath and body items. "We are excited to be offering
anti-aging skin care products in West Palm Beach
," explained Laura Myers, president of Mango Madness Skin Care and a licensed esthetician. "Our philosophy is simple; we believe our clients are better off using fewer, but higher quality, skin care products that will have a greater impact on improving their appearance," she added.
The moment you walk into a Mango Madness store, you will experience exciting tropical scents, colors and flair as if you had walked onto a lush tropical island. While the name may sound like all fun, the company specializes in very serious medical-grade, paraben free anti-aging skin care products that are not tested on animals.
Mango Madness Skin Care is headquartered in West Palm Beach, FL. It offers free shipping on all online orders from its warehouse and fulfillment center at www.MangoMadnessSkinCare.com. The company operates retail stores in West Palm Beach and Saint Augustine, FL.
CityPlace is a 27-acre property featuring Italian-inspired architecture and a rich variety of destination shopping, dining and entertainment establishments. The open-air, mixed-use center is a signature component of downtown West Palm Beach and offers more than 55 retailers; more than 25 dining options; nearly 600 private condominium homes; and a restored 1920s church adapted to serve as a multi-purpose cultural center.
###