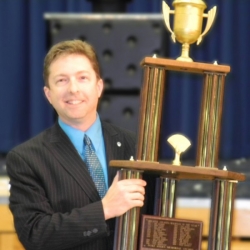 Atlanta, GA, January 11, 2011 --(
PR.com
)--
Atlanta speaker
and
corporate entertainer
Joe M. Turner has been voted 2010 Greater
Atlanta Magician
of the Year by the combined Atlanta memberships of the International Brotherhood of Magicians (IBM) and Society of American Magicians (SAM), it was announced at the clubs' joint banquet on January 8.
The award dates back to 1971 and is based on excellence in seven categories including performance skill, use of talent for charitable efforts, teaching, and creativity. The accompanying "Duke Stern/Hal Martin Memorial Trophy" is engraved with the names of all the previous winners. The winner is honored to keep the trophy for a year, and then receives a commemorative plaque to keep after passing the trophy to the next winner.
The selection of the winner is made in stages. Each of the participating organizations elects two finalists from their membership, and those nominees then go on a ballot for a final comprehensive round of voting by both clubs. This year, Turner had the rare honor of being selected as a finalist by both local groups.
Turner, a corporate speaker and entertainer often billed as "the Chief Impossibility Officer," is now a two-time Greater Atlanta Magician of the Year, having also received the award in 2000. He is a member of the International Brotherhood of Magicians, the Society of American Magicians, the London Magic Circle, and the Academy of Magical Arts in Hollywood. He serves as the IBM Territorial Vice President for Georgia, as well as the Global TVP Counselor; he is also currently serving a three-year term on the IBM Board of Directors. He writes a bi-monthly review column for Genii Magazine, the American illusion entertainment industry's oldest journal.
Find out more about Joe M. Turner's magic entertainment and keynotes at http://www.turnermagic.com and http://www.turnertalks.com.
###
Based in Atlanta, Georgia, corporate speaker, magician and mentalist Joe M. Turner – "The Chief Impossibility Officer" – delivers astonishing sleight-of-hand, customizable illusions, and stunning mentalism presentations for corporate events, trade shows, conferences and private events worldwide.