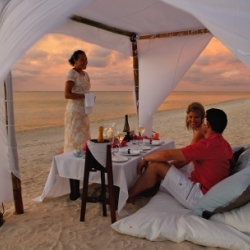 Aitutaki, Cook Islands, January 21, 2011 --(
PR.com
)-- Pacific Resort Aitutaki has been chosen as one of the Top 10 Luxury Resorts in the South Pacific and Top 10 Resorts for Romance in the South Pacific by TripAdvisor® in its 2011 Travelers' Choice awards.
TripAdvisor®, the world's largest travel site, today announced the winners of its 2011 Travelers' Choice® awards. This year 676 establishments were recognized in the ninth year of the competition. Unlike any other hotel honors, TripAdvisor Travelers' Choice winners are based on millions of real and unbiased reviews and opinions from travelers around the world.
"Based on reviews from millions of travelers around the globe, TripAdvisor is able to recognize the world's most outstanding hotels for the ninth year of the Travelers' Choice Awards," said Karen Drake, senior director of communications for TripAdvisor. "Outstanding service, great value and top quality are hallmarks of our Travelers' Choice winners."
"We are absolutely delighted and honored to receive these prestigious awards," says Greg Stanaway, chief executive officer for Pacific Resort Hotel Group – Cook Islands. "We are thankful to Michael Shah, Resort General Manager, and his team for underpinning the excellence of what is today known as one of the World's Leading Island Resorts. Pacific Resort Aitutaki will continue to build on its high standards in all the areas that awarded us this great recognition."
Cause for further celebration for the Cook Islands and Pacific Resort is Air New Zealand's announcement earlier this month that it will operate direct services between Sydney and the Cook Islands from July 2011, making it the only airline to operate direct services between the two nations. Flights will operate once a week from July 4, 2011 until March 2014.
For the complete 2011 Travelers' Choice list, go to www.tripadvisor.com/travelerschoice
###
Notes to Editors
About Pacific Resort Aitutaki
Secluded Luxury…Like a siren of the Pacific, Aitutaki, Cook Islands, beckons you. This magical place, full of South Seas idyll and romance, is home to Pacific Resort Aitutaki, an enclave of privacy, refinement and luxury, that seduces even the most discerning traveller. Pacific Resort Aitutaki has just 27 luxurious 'absolute beachfront' bungalows, suites and villas all with their own personal, panoramic view of Aitutaki's world-famous lagoon, where every sunset majestically captures the colours of the lagoon and the ocean beyond.
And even when your idyllic getaway comes to an end, the seduction doesn't stop. When you return home feeling refreshed and rejuvenated, you'll pause every now and then to revisit your magical memories of the experience that is Aitutaki. Memories of this exclusive, luxurious, romantic sanctuary will hold you in its spell forever. For more information visit
www.pacificresort.com
About TripAdvisor Media Network
TripAdvisor® is the world's largest travel site, enabling travelers to plan and have the perfect trip. TripAdvisor offers trusted advice from real travelers and a wide variety of travel choices and planning features (including Flights search, TripAdvisor Mobile and TripAdvisor Trip Friends) with seamless links to booking tools. TripAdvisor Media Group websites have been recognized as top travel resources in 2010 by Condé Nast Traveller, Good Housekeeping, TIME magazine and Travel + Leisure. For more information visit www.tripadvisor.com