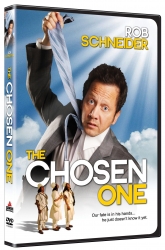 Santa Monica, CA, January 26, 2011 --(
PR.com
)-- Xenon Pictures in association with Viva Pictures has announced the national Video on Demand release of the Rob Schneider/Steve Buscemi hit comedy "The Chosen One." Co-written and directed by Rob Schneider, "The Chosen One" will be available on Video On Demand starting February 1st.
"The Chosen One" screened at the Independent Filmmakers Lounge during the 2011 Sundance Film Festival. In addition to Rob Schneider ("Grown Ups," "Deuce Bigelow: Male Gigolo"), the film co-stars Golden Globe winner Steve Buscemi ("Pulp Fiction," "Fargo," the new HBO series "Boardwalk Empire"), Holland Taylor (CBS's "Two And A Half Men") and Peter Riegert ("Traffic," "The Mask," "National Lampoon's Animal House").
On February 1, 2011 "The Chosen One" will debut in approximately 100 million cable, satellite, telco and online VOD homes. Large operators debuting the film include Amazon VOD, Apple iTunes, AT&T, Cablevision, Charter, Comcast, Cox, DIRECTV On Demand, Dish Network IPVOD, Mediacom, Time Warner Cable and Verizon.
Schneider stars as Paul Zadzig, a used car salesman whose life hits the skids after he has an on-the-job meltdown and his wife dumps him. His brother (Steve Buscemi) mocks Paul and offers no support while Paul's mother (Holland Taylor) is a widow too fixated on the recent loss of her husband to offer her son any solace. Just when Paul decides to end it all, a tribe of Holy men travel thousands of miles from their devastated homeland and mysteriously anoint Paul as the spiritual leader they've been waiting for called The Chosen One. Unwilling to accept this role, Paul finds himself on a comical journey of self discovery that leads him to eventually accept who he is and that the fate of humanity is in his hands.
"This is one of my all time favorite films," said Rob Schneider in a recent interview, "I wanted to make 'The Chosen One' because I think all of our lives have much more meaning than we think."
"The Chosen One" is the first film that Rob Schneider not only stars in and directs but he also co-wrote the script and produced the film with his brother John Schneider.
Xenon Pictures is an independent film and media distribution company specializing in comedy, urban dramas, and popular independent films often over-looked by the mainstream studios.
###