GRAMMY® "Swag" Goes Global with Anthropology-Inspired Skin Care
GRAMMY® Presenters and Performers Receiving AnthroSpa Logic® Announced.
Chicago, IL, February 04, 2011 --(
PR.com
)-- The Performers and Presenters at the 53rd Annual GRAMMY® Awards, who will receive AnthroSpa Logic®, a luxury, 100% natural spa skin care and body care line inspired by the science of anthropology have been announced. The unique skin care line combines beauty secrets from around world and will be included in the in the coveted, Official "Gift Bag" for the event, which takes place on Feb. 13, 2011 and will be broadcast live on CBS at 8 p.m. ET/PT. Developed by cultural anthropologist, Dr. Tramayne Butler, the new line, (www.anthrospa.com), uses a combination of antioxidant-rich, all natural ingredients used for centuries by native peoples both medicinally and in beauty treatments to care for their skin.
GRAMMY nominees Lady Gaga, Katy Perry, Eminem, Usher and Miranda Lambert are among the top music industry performers that will receive the line's exclusive and highly effective products, including the "Cleansing Renewal Face Scrub,™" "Hydrate and Tone Face Masque,™" and the super hydrating "Dew Point Replenishing Moisturizer.™" Album of the year nominees Arcade Fire and Lady Antebellum will also get the premium line as a "thank you" gift for their performances.
The upscale, natural line is completely chemical-free, preservative free, and filler-free. "Indigenous cultures around the globe have long used organic substances to care for their skin. AnthroSpa Logic is a luxury, 100% natural line that draws on this traditional knowledge and is designed to get maximum results," she noted. The line combines, time tested ingredients used in Europe, the Americans, Asia and Africa. For instance, the beauty secrets of the Japanese Geisha are intertwined with those of other groups like African and Native American tribes.
AnthroSpa Logic responds to a growing demand among consumers for upscale, natural and organic, personal care products. The multitasking products for face and body contain purely 100% active ingredients and are designed to promote smooth, clear skin all over as well as to have an anti-aging effect. They are soap-free and clay-free to prevent dryness or premature aging and serve as a natural alternative to chemical treatments and cosmetic surgery. "I wanted to create a line that offered spa quality results but remained as pure and natural as the time-tested, traditional treatments used by native peoples," Dr. Butler remarked.
Dr. Tramayne M. Butler developed AnthroSpa Logic in 2007 shortly after receiving her Ph.D. in cultural anthropology from the University of Michigan. Inspired by her cultural research in Kenya and travels to London, Paris, Nice, Milan and Monaco, Dr Butler felt that a natural skin care line could benefit from a cross-cultural approach. A busy mom, she started researching and developing the line while teaching as an adjunct professor and caring for her two young sons. To learn more about AnthroSpa Logic's unique products and to order online visit www.anthrospa.com. For news and to participate in activities related to this event follow AnthroSpa Logic on Facebook: http://www.facebook.com/pages/Chicago-IL/AnthroSpa-Logic/186875261372?ref=nf or on Twitter at: http://twitter.com/anthrospa.
About the Recording Academy®
Established in 1957, The Recording Academy® is an organization of musicians, producers, engineers and recording professionals that is dedicated to improving the cultural condition and quality of life for music and its makers. Internationally known for the GRAMMY Awards — the preeminent peer-recognized award for musical excellence and the most credible brand in music — The Recording Academy is responsible for groundbreaking professional development, cultural enrichment, advocacy, education and human services programs. The Academy continues to focus on its mission of recognizing musical excellence, advocating for the well-being of music makers and ensuring music remains an indelible part of our culture. For more information about The Academy, please visit www.grammy.com. For breaking news and exclusive content, join the organization's social networks as a Twitter follower at www.twitter.com/thegrammys, a Facebook fan at www.facebook.com/thegrammys, and a YouTube channel subscriber at www.youtube.com/thegrammys.
###
Contact
AnthroSpa Logic, LLC
Tramayne Butler, Ph.D.
773 600-4379
www.anthrospa.com

Contact
Multimedia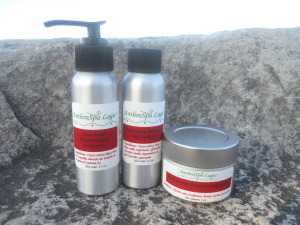 Our super hydrating Dew Point Replenishing Moisturizer,™ Cleansing Renewal Face Scrub,™ and Hydrate and Tone Face Masque.™