Announcing Amazon Cruises with GreenTracks
The GreenTracks Amazon Cruise is an ecotour on the Amazon River and its tributaries. You will explore the upper reaches of the exotic Amazon in Peru, one of the world's greatest ecosystems on a colorful Amazon riverboat.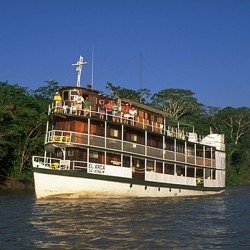 Durango, CO, February 14, 2007 --(
PR.com
)-- Years of experience exploring the Amazon allows GreenTracks to offer you this unique cruise experience. The GreenTracks Amazon Cruise is an ecotour adventure. There will be several excursions daily off the riverboat, led by GreenTracks-trained, bilingual Naturalist Guides. Using small excursion boats you will explore the creeks and oxbow lakes in search of wildlife. After dark you will do the same in search of caiman and colorful frogs. You will hike on rainforest trails in search of interesting animals, multicolored butterflies, bizarre insects, exotic flowers and gigantic trees. Ethnobotany (use of plants by people) will be explained by the guides.
These are 6 day/5 night cruises departing from Iquitos, Peru, on scheduled dates. Group size is always small, typically 8 - 12 people.
The Amazon riverboat has plenty of room to spread out and relax. Each cabin is air conditioned and has private bath & shower. There is an enclosed air-conditioned dining room and an outdoor bar area. Meals of both international and regional cuisine are served buffet-style in the air-conditioned dining room. Freshly caught fish is deliciously prepared by the chef and is always a big hit with the passengers. Beautifully presented salads are part of each lunch and dinner. Exotic rainforest fruits are available for snacks and juices.
A GreenTracks eco-adventure cruise is fun, stimulating and educational. With over 16 years of operation GreenTracks has provided memorable experiences of the Amazon for thousands of travelers.
###
Contact
GreenTracks, Inc.
George Ledvina
970-884-6107
www.amazontours.net

Contact