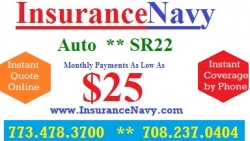 Chicago, IL, February 23, 2011 --(
PR.com
)-- Insurance Navy announced yesterday that it has decided to expand its offering of low cost auto insurance quotes and sales to Chicago Heights, Illinois, just on the outskirts of Indiana, by opening a new facility on the Joe Orr Road, effective May 1st, 2011. "Insurance Navy has signed the lease, and we are ready to go soon," said Fadi Sneineh, Agency Spokesman.
The new office for car & SR22 insurance quotes in Chicago Heights, Illinois will aim at servicing more of the Chicago south suburbs residents, including communities of Crete, Ford Heights, University Park, Olympia Fields, and Sauk Village. The office will extend its offering of SR22 insurance, car insurance, business insurance and trucking insurance to residence of communities.
"Thousands of our clients in the Chicago south suburbs and Indiana will benefit from the easy access of this new office which will help them in getting affordable car insurance and better access to auto insurance claim services," Mr. Sneineh added.
Currently, Insurance Navy markets its SR22 insurance and auto insurance in Chicago area through several branches in the cities of Chicago, Cicero, Maywood, North Riverside, Bridgeview, Palos Hills, Midlothian, Calumet City and Harvey. The agency also provides free auto insurance quotes and claim/ policy services through its online web location http://www.InsuranceNavy.com.
The strength of the agency is attributed to its representation of over 20 auto insurance companies. "This enables us to offer insurance starting at $25.00 per month for most mature drivers with good driving records. Many of these auto insurance companies do not check credit, which allows our agency to provide very attractive offers when customers
compare auto insurance rates in Illinois
produced by the rating system that is used by the agency called ITC," Mr. Sneineh added.
Insurance Navy is a premier leader in providing in-person, phone, and online auto and sr22 insurance quotes and policies through its network of insurance companies that includes the Hartford, Progressive Auto, AAA Insurance, Safeco and more than 20 other companies. The Agency also provide extensive claim services to its thousands of clients. We do not just offer the
cheapest auto sr22 insurance rates in Chicago IL
, we also offer some of the most high quality ones, continued to say Agency Spokesman Sneineh.
###
For additional information or to get a copy of Insurance Navy catalog please visit company website or call Fadi Sneineh at (708) 237-0404.