Foodservice Distributors, Meat Processing Plants and 60 Yr Old Produce Company Get Serious in Colorado and Arizona About Safer Fresher Meats, Poultry, Seafood and Produce
FDA/USDA Approved CO2 Pads Patented Technology Makes Food Safety and Freshness Easy to Implement for Almost Every Type of Food Related Business.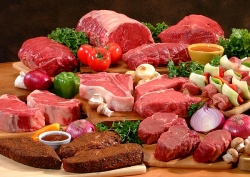 Denver, CO, February 25, 2011 --(
PR.com
)-- JS Food Brokers, Master Broker and Marketing Consultant for CO2 pads patent holder, CO2 Technologies, helps companies improve food safety and extend the shelf-life of meat, poultry, seafood, fruit and vegetables with a very cost-effective solution.
"With the new FDA Food Safety Modernization Act looming over the food industry, CO2 Fresh-Pads can help companies looking for ways to demonstrate how they are taking steps to improve food safety while at the same time improving their bottom line." – Barney Seward, President JS Food Brokers LLC
CO2 Fresh-Pads, provide a 100% natural safety advantage by gradually releasing CO2 in a controlled atmosphere, which displaces Oxygen and Ethylene to retard bacteria growth from 20%-50%+ on perishable items, resulting in a safer fresher end product for the consumer. CO2 Fresh-Pads are being used by meat plants, food processors, restaurants, retail grocery and wholesale businesses to help them extend the shelf-life of perishable foods and enabling them to offer their customers a higher quality product.
"Major meat processing plants in Arizona and Colorado are now using the CO2 pads in ground beef, poultry and seafood to retard bacteria growth and extend shelf-life.
"One of Colorado's oldest produce companies now uses CO2 pads in all of their sliced and diced produce including tomatoes, cantaloupe, honeydew, pineapple, and green, red and gold peppers to retard bacteria growth, maintain freshness, reduce purge and give their customers a safer product." – said Seward.
Recent scientific testing has been completed by a major Texas chicken processor that provides high-end products to some of the top 10 restaurants and fast food chains across North America. Testing was completed by an ACIL/ASM independent laboratory showing chicken breasts packaged with CO2 pads have an average of 35% less Aerobic Plate Counts (APC) at day 7, 8, 9 and 13 than compared with the same product without using CO2 pads.
Food related companies have found that CO2 pads are easy to use, low cost and saves them money.
CO2 Fresh-Pads:
· Reduces spoilage by inhibiting bacteria growth on perishable foods
· Helps keep meat redder and lasting fresher longer
· Keeps fruits and berries from molding while retaining moisture
· Reduces purge in ground beef, sausage and other meats
· Eliminates foul odors from fish and maintains texture and color
The result is a reduction in mark-downs, early pulls and discards, while providing customers with safer and better quality food.
If you'd like more information about CO2 Fresh-Pads or JS Food Brokers LLC, or to schedule an interview with Steve Josephs or Barney Seward, please call 303.242.5639 or email info@jsfoodbrokers.com or visit www.CO2Pads.com.
###
Contact
JS Food Brokers LLC
Steve Josephs
303-242-5639
www.jsfoodbrokers.com

Contact
Multimedia
Overview of how CO2 pads can be applied to meat, poultry, seafood, fruits and vegetables to extend shelf-life, reduce spoilage and reduce waste, with a bottom line cost savings.