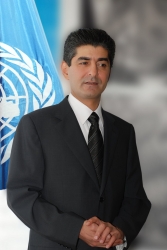 Doha, Qatar, March 07, 2011 --(
PR.com
)-- The Goodwill Ambassador and Middle East Director of Intergovernmental Institution for the use of Micro-algae Spirulina against Malnutrition (IIMSAM), Dr. Naseer Homoud has been declared elected for the prestigious Man of the Year Award-2010 in Jordan by Akhbarna. The nomination to award was held by voting on the internet and by mobile text messages. Dr. Homoud bagged a total of 90,297 votes defeating his nearest rival Mr. Abdul Hameed Shoman, Chairman of Arab Bank by a huge margin of 4,636 votes. The voting was concluded on 28th of February and the results were declared on March 1, 2011 by Akhbarna, which is now also available on the news channel website.
Akhbarna announced the results adding that very soon a facilitation ceremony would be organized to confer the award for Dr. Naseer Homoud which will be attended by several high profile and eminent personalities from the entire Middle East Region. Akhbarna announced that under different categories a total of 720,000 people participated in polling and Dr. Homoud received the highest votes in Man of the Year Award category.
In another landmark achievement Dr. Homoud also received the prestigious award of "Economic & Social Personality of the Year-2010" by Zaid Jordan. The award was conferred under the high patronage of the Prime Minster of Jordan Dr. Marouf Suleiman al-Bakhit. In a glittering ceremony held in Amman, the award was conferred recognizing the works of Dr. Homoud in supporting Jordan in all spheres. Other awards were also conferred in the ceremony and the honorees includes former speaker of Jordanian parliament Mr. Abdul Hadi Majali who bagged the political person of the year award; Jordanian Minster of Culture Mr. Tarek Masarweh; Jordanian Minster of Information Mr. Taher Al-Adwan; President of Royal Court Dr. Khalid Al- Karaki; renowned businessman and Mayor of Amman Engineer Omar Maani; former minister Ms. Maha Khatib and parliamentarian Ms. Remm Badran who were conferred award under various categories.
The Award came as recognition of Dr. Homoud's many achievements and unique vision and support which has paved the way for several milestones in philanthropy. Dr. Homoud is a person who really deserved this award. His works are exemplary and was the best choice for us indeed, the statement stated.
Commenting on the honor, Dr. Homoud declared "I am honored to receive two prestigious awards. However, credit for my winning this award must also go to my team at IIMSAM, as well as my Jordanian brothers and sisters for whose support I am very grateful." He further added "these are the most gratifying awards I have received so far, and it will forever hold a special place in my heart."
Dr. Naseer Homoud is a renowned and well known philanthropist of the Jordan being known across the world for his humanitarian, charitable and social activities apart from his utmost support for sports. Widely acclaimed for his activities and social works Dr. Homoud has achieved several accomplishments in his life in acknowledgement of his work. The present award is the 3rd prestigious award being conferred to him in series of 3 consequent years. In 2008, he received award for man of the year in Jordan and Most Influential Person of the year award in 2009. He is also known for his commitment and support towards sports. He is broadly acclaimed for his adore and support for sports and due to his profound attachment to sports, his continuous support for sporting events all across the Middle East region is much-admired.
Dr. Homoud though genuinely humbled by this great honour, is truly proud to be counted among his countrymen. Expressing his gratitude, Dr. Homoud said "I am honoured to get these awards. I feel that these awards are the call for more and sustainable action towards the united goals. I dream to convert this world free from hunger and malnutrition; I dream to eradicate poverty but I know that such works need collective efforts and I request all of you to join hands for ultimate benefit of mankind on this planet."
###