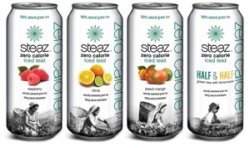 Doylestown, PA, March 08, 2011 --(
PR.com
)-- The Healthy Beverage Company Co-Founder Steven Kessler and his Steaz® Team are gearing up for a Zero Calorie roll-out at this year's Natural Products Expo West, with introductions of new flavors and innovative new packaging. Steaz® will be located at Booth #2909 from 10:00 a.m. – 6:00 p.m. on Friday, March 11 and Saturday, March 12, and from 10:00 a.m. – 4:00 p.m. on Sunday, March 13.
The increasingly popular and industry leading line of Steaz® Zero Calorie Sparkling Green Tea, currently available in glass bottles only, will debut a new look in portable 12 oz cans (bottles will still exist). Honored with BevNet's Best New Organic Product of 2009 and Best New Carbonated Beverage of 2009, the new look of Steaz® Zero Calorie Sparkling Green Tea "Cans" will still be available in their award-winning flavors of Raspberry, Orange, Blueberry Pomegranate and Black Cherry. The new 6 pack can package will available to the retailers in April 2011.
Steaz® will also be sampling the brand new Zero Calorie Iced Teaz, just released into the marketplace this month and available now at Whole Foods, Kroger and thousands more stores nationwide. Steaz® Zero Calorie Iced Teaz are 100% natural and made with premium Organic and Fair Trade Certified green tea. The four new flavors are Citrus, Raspberry, Peach Mango and a Half and Half (Green Tea and Lemonade).
All Steaz® Zero Calorie products are naturally sweetened with stevia including Zero Calorie Iced Teaz, Zero Calorie Sparkling Green Tea and Zero Calorie Energy drinks.
"With this being our 8th year in business and our 8th Expo West, we look forward to once again using Expo West as the 2011 launch pad for our exciting New Zero Calorie products. 2010 was a tremendous growth year for us and we always look to this great show to reconnect with our industry friends and customers." Steven Kessler, Co-Founder.
The Steaz® Team invites all attendees to stop by Booth #2909 for a Happy Hour on Friday and Saturday from 5:00 pm to 6:00 pm. The team will be mixing up some fantastic Steaz® cocktails with Square One, along with giveaways for branded yoga mats and Steaz® t-shirts.
About the Healthy Beverage Company and Steaz Iced Teaz®
The Healthy Beverage Company (www.steaz.com) is the maker of USDA Certified Organic and Fair Trade Certified Steaz® Organic Iced Teaz, Steaz® Sparkling Green Teas, Steaz® ZERO Sparkling Green Teas, and Steaz® Energy, named Energy Drink of the Year by BevNet.com. According to SPINSscan Natural, Steaz is the best-selling Organic soft drink brand in the U.S., based on total dollar sales.
Steaz beverages are sold nationally in the U.S. in natural, specialty, gourmet and food service locations. Steaz beverages are sold in retail outlets such as Whole Foods, Kroger, Ralphs, HEB, and Ahold supermarkets. Steaz is also sold internationally in Canada, Australia, Mexico, Europe, Latin America, South Africa and the Caribbean islands. Steaz Organic products are Certified Organic by Quality Assurance International (QAI) and are Fair Trade Certified by TransFair USA.
To learn more about Steaz, visit www.steaz.com or contact Amanda Zehavi by phone 215-321-8330 or email at amanda@steaz.com.
###