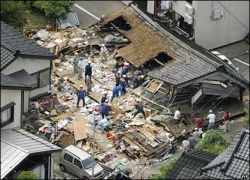 New York, NY, March 17, 2011 --(
PR.com
)-- Edmonton businessman turned philanthropist, Jesse Willms, has opened up his heart to help the Red Cross in providing emergency medical care to the victims of the multiple disasters that have struck Japan over the past week.
"What we saw happening during the past few days was beyond our worst nightmares," Willms said. "Japan faced a triple threat - a huge earthquake, a tsunami and now meltdown situations at nuclear power plants. When disaster on this level strikes, we owe it to them and ourselves to do anything we can to help."
On Friday, what has now been upgraded to a 9.0 magnitude earthquake, struck the island nation. Several hours later this was followed by a giant tsunami. The confirmed death toll from these two events has been put at nearly 2,500 people, although that number is expected to grow.
More than 3,000 people are still reported missing and roughly 450,000 people are living in temporary shelters. That's because over 63,000 buildings have been extensively damaged and at least 6,000 have been destroyed.
"Those numbers alone are staggering," Willms said. "This is now considered the worst earthquake in Japan's history. What's truly sad is that the number is sure to rise as the nuclear disaster plays out."
Explosions have occurred at several of the power plants, spewing radiation into the atmosphere. This happened because the systems that are designed to cool the nuclear fuel rods stopped working when the earthquake cut power to large parts of the country. As of Tuesday, everyone living in a 20-kilometer radius of the Fukushima Daiichi nuclear power plant had been evacuated.
"When situations like this happen, the Red Cross is one of the few organizations truly equipped to deal with the disaster," Willms said. "I believe it's important to support them in their costly, heroic and dangerous efforts to save lives."
Last year he was inspired by the words of Bill Gates and Warren Buffett to use his money and influence to help make the world a better place. Since then he has donated his profitable earnings and many hours of his time to reputable non-profit organizations.
"When disaster strikes, that's when people need help the most," Willms said. "While I support
charitable organizations
all year long, I feel a particular obligation to help when events like this occur."
Willms donated $3,000 to the Canadian Red Cross, part of the International Federation of Red Cross and Red Crescent Societies, which coordinate the national disaster response activities of more than 185 national societies and more than 100 million volunteers worldwide.
###