Studio Band Early Jitters to Cut New Album
The studio band Early Jitters plans to reunite in Dallas to cut a new album and work on a music video before touring.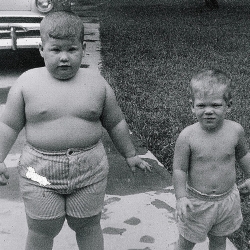 Dallas, TX, March 24, 2011 --(
PR.com
)-- The studio band Early Jitters is making plans to cut a new album at McClain Recording Studio, located in the Dallas suburb of Garland, Texas.
Early Jitters is a rock and roll band from Dallas, Texas and Jacksonville, Florida. It is made up lyricist and guitarist, Sam Roden; bass player and vocalist, Gregory (G.G.) Grant; lyricist, Carlos Serrano and drummer, Lito de la Cruz. Most of Early Jitters music is produced and engineered by Mike McClain, owner of McClain Recording Studio.
Band leader and current Dallas resident, Sam Roden says, "Early Jitters has a song list of 45 songs, most of them rock and roll songs; but I also write some country and western songs, too." All of the band members have been friends since grade school in Westside, a suburb of Jacksonville, where they grew up. They are all quick to point out that Jacksonville was also the hometown of other great rock and roll bands like Lynard Skynard, 38 Special and Molly Hatchet, all bands that got their start playing the roadhouse and bar circuit in Florida. Sam, however, cites the British bands The Beatles and Led Zeppelin as the bands with the greatest influence on Early Jitters.
Sam has been recording songs at McClain Recording Studio for over 25 years. According to Sam, "The recording session for this album will be a reunion of sorts since most of the band members still live in Jacksonville." The other members of the band will fly into Dallas for the recording session which is scheduled to begin in May. The recording session will also be filmed for use in a music video to be created after the album is cut. Early Jitters plans to start touring after the album is completed. You can check out the band's website at
earlyjitters.com
and Sam's website at
samrodensongwriter.com
.
For more information, contact Early Jitters publicist, Les Branson at LesBranson25@aol.com.
###
Contact
Early Jitters
Sam Roden
972-392-2677
www.earlyjitters.com
lesbranson25@aol.com

Contact