A Nudist Resort Vacation in Palm Springs, CA Is More Affordable Then You Imagine
Historically, Americans had to travel to Europe or the Caribbean to find upscale nudist resorts and hotels. No more. Some of the best nudist resorts in the world are now located in the U.S with the Terra Cotta Inn clothing optional resort and spa located in sunny Palm Springs, CA considered one of the best.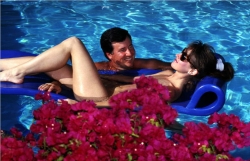 Palm Springs, CA, February 23, 2007 --(
PR.com
)-- Why vacation at a nudist resort?
The simple answer is relaxation. In this hustle, bustle world of ours, people are stressed out. They need some major relaxation time. And nudist resorts are the perfect way to relax to the max.
Once your clothes come off, your tensions and stresses magically disappear. And if you want to relax even faster, you need to get one of the famous massages at The Terra Cotta Inn. This is one of the reasons, they have one of the highest repeat guest rates in the travel industry at just over 75%.
In a recent Roper poll, 25% of Americans have said they have gone skinny dipping in mixed company. Forbes magazine says vacationing at nudist resorts is the fastest growing trend in the travel industry. You need to join the fun and try a clothes free vacation.
For many years, Americans thought the only places to go nude sunbathing in the U.S. were at rustic nudist camps. Sort of like the nudist colonies of old that the Pink Panther movies made famous. Well, times have changed for the better.
One of the first upscale nudist resorts in America that catered to couples on vacations is The Terra Cotta Inn clothing optional resort located in sunny Palm Springs.
http://sunnyfun.com
And it is still one of the best.
Designed by the famous architect Albert Frey, The Terra Cotta Inn is a beautiful historic mid-century modern property. Originally built for celebrities, with its high walls and privacy, it is ideal for nude sunbathing.
With amenities such as free WiFi, top of the line king sized beds and linens, delicious complimentary breakfast and afternoon snacks, state of the art salt water system swimming pool and jacuzzi (which feels ever so gentle on your bare skin), and poolside misting/cooling system, The Terra Cotta Inn is the perfect year round vacation resort.
First timers are always very nervous about booking their first vacation at a nudist resort. Picking the right one is very important as all nude places are unique. This is one of the reason why guests from around the world go to The Terra Cotta Inn for their first clothing optional vacation. Here there is never any pressure to immediately disrobe. Woman are more than welcome to start with European which is topless sunbathing.
CBSmarketwatch reported that they are the most mainstream nudist resort in America and perfect for couples trying nude sunbathing for the first time. The Chicago Tribune newspaper reported that they are one of the 10 best clothing optional resorts in the world.
This December, the Vancouver Sun newspaper in Canada picked them as one of the top places in the world to go nude sunbathing. They were the only resort on the west coast that was honored. Even Newsweek Magazine featured them in an article about some of the best small businesses in America.
And The Terra Cotta Inn is more affordable then you imagine. This spring, rates start at only $149/couple/night on Monday thru Thursday nights, $169 on weekends, and $959/couple/week. This includes their early check in (10am) and late check outs (5pm). With the most liberal check in and check out policy in the travel business, you will have plenty of time to relax. And unlike most nudist resorts, they do not charge membership fees.
So this spring (or any time for that matter), make this the year to relax and have fun on your vacation. Say goodbye to tan lines forever. For more information, The Terra Cotta Inn can be reached at 1-800-786-6938 or via e-mail.
###
Contact
The Terra Cotta Inn Clothing Optional Resort and Spa
Tom Mulhall
1-800-786-6938
http://sunnyfun.com

Contact