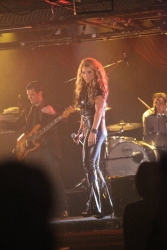 Plainview, NY, March 29, 2011 --(
PR.com
)-- Long Island Country singer Lisa Matassa announces A-list lineup of musicians to help her rock Long Island's Carlyle at The Palace venue, as she performs a live set from her entire EP, "Me Time," on Thursday, March 31, 2011.
Matassa's live performance will take place during the exclusive event for the release of her much anticipated EP, "Me Time" (LMA Productions/It Is What It Is Records), and the premiere of the music video for one of the songs from her EP, "I Don't Feel Anything." WJVC My Country 96.1 FM on air personalities Phathead and Party Marty will host the event and announce Lisa Matassa as she makes her way to the stage to perform along with the following 8 acclaimed musicians.
Lisa Matassa's musician lineup for the evening will include:
- Tony Bruno on lead guitar, credits include Rihanna and Enrique Iglesias
- Greg Smith on bass, credits include Ted Nugent and Alice Cooper
- Jules Radino on drums, credits include Blue Oyster Cult
- Joey Sykes on guitar, credits include Meredith Brooks, Bryan Adams, Queen Latifah, Don Henley
- Colin Smith on guitar and background vocals, credits include Alicia Keys
- Mike Dimeo on keyboards, credits include Tommy James
- Bobby Guy Graziose on keyboards, credits include Toni Braxton, Celine Dion, Whitney Houston
- Simi Stone on fiddle, credits include The Duke and the King
Songs to be performed by Lisa Matassa from her EP, "Me Time":
- I Don't Feel Anything
- Wouldn't You Like to Know
- Me Time
- Transparent
- Kiss Me Quiet
VIP guests expected to attend include:
- Edward P. Mangano, Nassau County Executive
- Long Island socialite, Dina Lohan
- Original MTV VJ and current Sirius XM radio personality, Mark Goodman
- Former star of The Sopranos, Joseph R. Gannascoli
- Don Rollins – Grammy Award winning songwriter of the classic country single, - It's Five O'Clock Somewhere
- Billy Joel saxophonist, Richie Cannata
- Billy Joel guitarist, Tommy Byrnes
- New York Jets NFL Player, Victor Green
Press Expected to Attend: News 12, Daily Front Row, Hamptons Magazine, Long Island Pulse Magazine, Boulevard Magazine, Long Island Tribune, Hamptons.com, Plum TV, New York Observer, Dan's Paper, Elegant Accent Magazine, 1010 Wins, SpotonLI.com
Event Sponsors Include: Nuvo Sparkling Liquor, Tequila Avion, Fuze/SmartWater, Decadent Desserts, It Is What It Is Records and LMA Productions
Event hosted by:
WJVC My Country 96.1 FM (www.licountry.com)
Visit Lisa Matassa at ReverbNation:
http://www.reverbnation.com/lisamatassa
Visit
www.LisaMatassa.com
and "like" Lisa Matassa on Facebook at
http://www.facebook.com/lisamatassafanpage
.
Event Contact:
Sande Finkel
Sande Finkel Marketing Solutions, Inc.
CEO
516 448-8508
sandefinkel@gmail.com
Media Contact:
Allison Kugel
516-942-0264
allisondawnpr@aol.com
www.lisamatassa.com
www.allisondawnpr.com
###