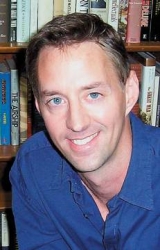 Philadelphia, PA, March 30, 2011 --(
PR.com
)-- It was announced today that filmmaker, Robert Child, of Washington Crossing, PA, has been selected as an honoree and recipient of a Lifetime Award in the Arts from the Central Bucks County Chamber of Commerce. The award will be presented during the Chamber's 37th annual awards gala to be held at Spring Mill Manor in Ivyland, PA, on April 30th.
Child, who has worked in the entertainment field for 27 years in both television and film, is the winner of more than 20 national film making awards including; five Telly Awards, two CINE Golden Eagles, a Best Director Award at the New York Independent Film Festival and a Special Jury Award at Worldfest Houston.
His latest film, Caught by the SS: The Wereth Eleven, was aired on the National Geographic Channel on February 16th and premiered at the National World War II Museum in New Orleans. In addition, the film was just officially selected to screen at the GI Film Festival in Washington, DC, on May 15th.
Child spent 15 years in network and cable television in New York working on such widely seen programs as Emeril Live! (Food Network), Who Wants To Be A Millionaire (ABC), The People's Court (Warner Bros.) The Daily Show with Jon Stewart (Comedy Central) and many others.
"Words cannot truly convey my gratitude to the committee for this recognition and honor," Child said. "I believe, however, that my best work lies ahead of me and that is what drives me forward."
Past honorees of the Lifetime Achievement Award from the Central Bucks Chamber include Michael Smerconish, George Nakashima and Bob Krist.
About the Central Bucks Chamber of Commerce:
The Central Bucks Chamber of Commerce was established in 1946 by a group of 12 area businessmen. Today, with memberships of over 2,600 and growing, the chamber is second only in the eastern Pennsylvania region after the Greater Philadelphia Chamber of Commerce.
###