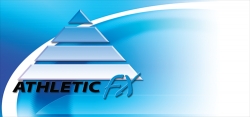 Rochester, NY, April 01, 2011 --(
PR.com
)-- Evaluations of Hundreds of Young Athletes in Rochester/Monroe County, New York, Identify a Common Deficiency in the Physical Development of Young Athletes and Exercises to Address the Problem.
AthleticFX, a leading sport development training organization based in Rochester, New York, today announced that based on its evaluation of hundreds of young athletes it had identified posterior chain development as the most overlooked aspect of youth athletic training in metro Rochester, New York.
Many coaches in Rochester/Monroe County, as well as those nationwide, do not understand how to properly develop the athlete's Posterior Chain, nor do they understand the science involved. Youth athletes themselves are similarly unaware of the importance of or best methods to develop posterior chain strength.
Frank Lupiani, Founder and head trainer of AthleticFX stated, "Posterior Chain development is a crucial part of any athlete's development. A strong Posterior Chain can turn an awkward adolescent into an athlete and an athlete into a Champion."
Posterior Chain development is the process of building a strong foundation in your lower extremity. The most important muscle in the Posterior Chain is the Hamstring. The hamstring is essential for providing strength, power, and speed, and also reactive speed. AthleticFX provides athletes with training methods that will help them develop their posterior chain.
Frank Lupiani, Founder and head trainer of AthleticFX stated, "'Building Foundations to Athletic Success is how we refer to it at AthleticFX when having the opportunity to work with an athlete from a young age. As the athletes enter junior high and are preparing to play modified sports, they have a great opportunity to begin working in the schools weight room. From my experience, over the years working with hundreds of athletes in this age group, the gains made from an AthleticFX training program begin to transfer very quickly to the sport or sports the athlete participates in, while setting up a solid foundation of strength and stability to build off for years to come."
AthleticFX has identified a weightlifting program emphasizing the squat, the push press and a hyrbrid lift called the hang-clean. Although there are many ways for an athlete to develop a strong posterior chain, these few exercises mentioned have been found to be very rewarding in terms of athletic development for the athletes. The squat, push press, and the hang clean have great results when taught properly. This is because the exercises require the athlete to focus on moving the weight as fast as possible.
About AthleticFX
AthleticFX is the premier choice for athletes of Rochester, New York, and surrounding areas. AthleticFX specializes in young athlete development. AthleticFX provides excellent development programs for young athletes. Begin your athletic development training today with AthleticFX.
AthleticFX provides a wide range of training services, and also provides specialized services in select fields such as sport performance, sport rehabilitation, and corporate health care programs.
For more information please visit www.athleticfx.net
###