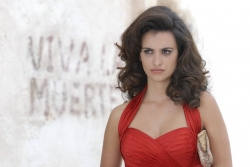 Los Angeles, CA, April 03, 2011 --(
PR.com
)-- Oscar Winning Actress Penelope Cruz unveiled her star on the Hollywood Walk Of Fame on Friday as Xenon Pictures and Viva Pictures LLC announced the national DVD and VOD release of the romantic saga "A Matador's Mistress." The film stars Penelope Cruz ("Pirates of the Caribbean: On Stranger Tide") and Adrien Brody ("King Kong," "The Pianist") and was written and directed by critically acclaimed filmmaker Menno Meyes (co-writer "The Color Purple," "Indiana Jones and The Last Crusade"). "A Matador's Mistress" arrives on DVD and Video on Demand on June 7th.
With breathtaking international locations and stunning bullfighting sequences, "A Matador's Mistress" not only features an incredible performance by the Spanish-born Cruz who took home the Oscar for "Vicky Cristina Barcelona" but also by co-star Adrien Brody who won Best Actor for "The Pianist." Menno Meyes who wrote and directed the epic $28 million production is also an Oscar nominee for writing the script for "The Color Purple."
Set in the 1940's, "A Matador's Mistress" tells the story of the most celebrated bullfighter in Spain, Manuel Rodriguez Sanchez (Adrien Brody), famously known around the world as Manolete. Manolete's life changes when he becomes obsessed with the beautiful and mysterious Lupe Sino (Penelope Cruz). What unfolds is a passionate and tragic romance that ends with Manolete's death in the bullring in 1947 at the age of 30.
"A Matador's Mistress" premiered at the Toronto Film Festival under the working title "Manolete" and has been praised for Brody and Cruz's deeply moving performances as well as the art direction and cinematography.
Xenon Pictures acquired U.S. distribution rights for "A Matador's Mistress" in a co-venture with Viva Pictures LLC and the two companies are in talks for a pre-VOD theatrical release.
Xenon Pictures is an independent film and media distribution company specializing in urban dramas, comedy and popular independent films often over-looked by the mainstream studios.
Viva Pictures LLC is a Westwood, CA. based multi-media distributor of high quality star driven films with award winning casts and talent.
###