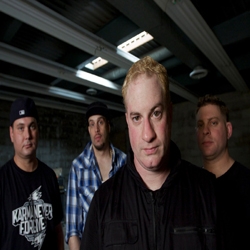 New Brunswick, NJ, June 02, 2011 --(
PR.com
)-- Ripface Invasion proudly announces the worldwide debut of their four song EP on July 5, 2011. Ripface Invasion is a coalition of veteran musicians from the New Jersey punk/hardcore scene from over the past 20 years. Even though they all lead separate lives, they managed to come together and do what they all love, play hard edge energy driven music.
Ripface Invasion was formed in December of 2010 by Anthony (Red) Paladino. He is lead vocalist and occasionally plays second guitar. Red is the founding member and leader of Earache Records 1997 new chapter punk recording artist IDK, since their creation in 1990. After many years with IDK, Red was looking to create a bolder sound. "Growing up loving punk, hardcore, and heavy metal music, I wanted to create a record that captured all three genres in one unique outburst of energy," Red said. With much dedication, he wrote the music and produced the record, along with the sound engineering talents of Frank D. Fagnano. Frank D. Fagnano also engineered and mixed IDK's 1997 Taking on the Monster EP, and their full length album Til Death do Us Part, which was released on the indie label The Music Cartel in 1998.
To help mold the brutally energetic sound and attitude of Ripface Invasion, Red recruited experienced and motivated musicians from the New Jersey punk/hardcore scene. From the number of musicians that played on the record, he hand picked three to help bring the unique sound to life on stage. Rey Fonseca plays guitar. He laid down a number of tracks on the EP. Rey is an original member, since 2000, of the post-hardcore band, Agents of Man, who had records released on Century Media. Jesse Koblentz plays the drums. He is a long time drummer out of the New Jersey hardcore scene. Last but not least, is Tom Conti playing bass, who also contributed on the record. Tom has been playing bass, alongside Red, for IDK since 1995.
Ripface Invasion's thrash punk/hardcore crossover style can be heard on July 5, 2011 with the release of their four song EP. Check it out on iTunes and on their website www.ripfaceinvasion.com. You will be able to download a song, order the EP, and check out the artwork created specifically for Ripface Invasion.
###