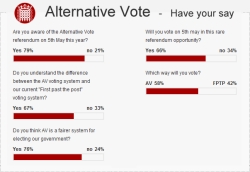 London, United Kingdom, April 09, 2011 --(
PR.com
)-- The pre-referendum AV poll on
breaking news
site www.Blottr.com, the user generated news service that has become the catalyst for encouraging freedom of speech in the UK, has become a platform for Liberal Democrat leader Nick Clegg to emphatically declare his support for the Alternative Vote during the upcoming referendum on 5 May.
Clegg slammed the 'No' campaign, accusing those that vote in this way as untrustworthy, including the very party he is in a Government coalition with, the Conservatives.
Mr Clegg said; "I've been struck by just how much the 'No' campaign- made up of the Tories, the BNP and the Communists- have resorted to scaremongering and lies, knowing the current system is so flawed they simply can't win this argument by defending the status quo.
"I believe people won't be fooled by this and will see the vote on 5 May for what it is; a once in a generation chance to change the way we do politics for good."
It is believed that agreeing to take the Alternative Vote system to referendum was one of the deciding factors for the Lib Dem leader in agreeing to form a coalition with the Conservatives.
To enable UK voters to have their say, www.Blottr.com have launched a poll to garner public opinion on the Alternative Vote.
Interestingly, over a third of those who have polled to-date do not know the difference between AV and First past the post voting and nearly 40% of respondents say they will vote FPTP and not in favour of the AV.
To cast your vote, go to www.blottr.com
ref http://www.blottr.com/breaking-news/exclusive-nick-clegg-brandishes-tories-liars for full comment from Mr Clegg
###