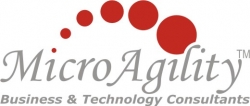 Washington, DC, April 15, 2011 --(
PR.com
)-- MicroAgility, Inc, an award winning Business and Technology Consultancy, today announced that it has been awarded a five-year Mission Oriented Business Integrated Services Schedule 874 contract by the U.S. General Services Administration (GSA). The Schedule 874 will enable MicroAgility to expand its services into public sector and streamline the ability of all US Federal agencies to purchase MicroAgility's advanced consulting services including program and project management services. State and local governments, under the cooperative purchasing rules where authorized by the state, can also use this Schedule to procure MicroAgility's services. The Schedule 874, SIN 874-1 and SIN 874-7 provide a range of valuable benefits to the customers, such as shorter lead-times and lower administrative costs.
"MicroAgility is very delighted to offer its services through the Schedule 874," said Sajid A. Khan, President of MicroAgility. Mr. Khan further added, "This schedule, which has simplified the procurement process, will help MicroAgility and prospective government clients focus on what matters most, i.e. partner to solve pressing program and project management challenges with top quality services. After conducting an extensive evaluation and awarding this Schedule, GSA has confirmed MicroAgility's exceptional capabilities, performance history, and customer satisfaction. On this special day, we reiterate our commitment to help our clients succeed with agility."
MicroAgility possesses a team of agile and results-oriented consultants with first-class business, technology, management, and operational experience. In addition, we have an internal database of over 20,000 diverse and qualified Business and Technology consultants that we can tap into to build a specialized team (small or large) to address your specific business challenge. MicroAgility is certified 8(a)/SDB/WBE/MBE/DBE with Security Clearance from Department of Defense.
###