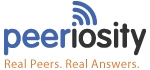 San Diego, CA, May 04, 2011 --(
PR.com
)-- Peeriosity, an innovative best practice research company for Shared Services, Finance, Human Resources, and Procurement within Global 2000 organizations, announces the addition of a new research area, "Senior Executives." This is an exclusive offering for overall heads of Shared Services and their executives in the C-Suite. While similar in design to the existing nine research areas, "Senior Executives" has strict requirements for access to ensure an exclusive private community of top executives. In addition, members will be eligible to attend senior leadership forums hosted by member companies at their service centers and facilitated by Peeriosity's expert advisors.
Mike Hostetler, CEO of Peeriosity said, "Adding a new research area that is exclusive to senior management allows us to connect with the highest level of leadership to deliver great value through a rich mix of expert guidance and practical real-word experience. 'Senior Executives' is a premier program that offers individual coaching sessions with expert advisors, and face-to-face meetings that allow for in depth dialogue and collaboration as we explore pressing topics and issues."
Peeriosity SVP, Ira Fialkow, will manage the new research area. Ira was previously the EVP-Shared Services for CEMEX USA where he led the Shared Services organization for 16 years. Ira has implemented Shared Services in multiple service areas (Accounting and Finance, Information Technology, Human Resources, Process Optimization, and Knowledge Management) and in multiple countries.
Companies who have expressed interest in hosting senior leadership forums at their service centers include BP, General Motors, Kellogg's, MediaNews Group, Halliburton, Heidelberg Cement and Hyatt. Added Hostetler, "We are delighted by the enthusiasm of our members and look forward to adding this new program, complete with onsite meetings, at no additional cost."
In addition to the new research area for Senior Executives, Peeriosity membership includes access to nine other distinct research areas: Shared Services Leadership, Shared Services Outsourcing, Accounts Payable, Accounts Receivable, Corporate Card, General Accounting, Human Resources, Payroll, and Procurement.
With an extensive roster of member companies that includes Motorola, Microsoft, Intel, Verizon, EMC, General Mills, Procter & Gamble, Walt Disney Company, Rolls Royce, and Vodafone, Peeriosity offers an exclusive community for leading companies who understand the value of an active online collaborative research community.
Membership is for active practitioners only; consultants, vendors, and job seekers are prohibited.
For more information about Peeriosity and our solutions, please visit our Web site at
www.peeriosity.com
or contact us at +1.678.799.9890.
About Peeriosity
Established in 2009, Peeriosity provides an exclusive state-of-the-art environment that enables companies to increase their organizational effectiveness by collaborating with true peers from other companies who share the same functional discipline, forming the basis of best practice research.
###
Media Contacts:
Kurt Ballard
Peeriosity, LLC
kballard@peeriosity.com