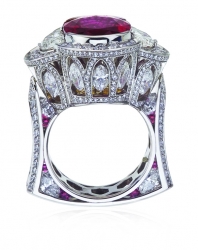 Newport Beach, CA, May 06, 2011 --(
PR.com
)-- Building on a tradition of quality and unconventional style, Alfredo J. Molina purchased Black, Starr & Frost in 2006. "In our new location we will provide an experience of privacy and pure luxury as was done for the carriage trade in the 1800's and early 1900's," states Alfredo Molina. The store will showcase a museum collection of it's historic designs along with present one-of-a-kind diamonds and precious gemstones.
Known as the premier jeweler to famous families, royalty and celebrities, the fine jewelry salon was so prestigious, Marilyn Monroe mentioned it in the song "Diamonds Are a Girl's Best Friend" from the 1953 blockbuster film, Gentlemen Prefer Blondes.
The firm's reputation for garnering the most exquisite gems has attracted worldwide attention from famous families, such as the Rockefellers, Vanderbuilts, Guggenheims, and Carnegies, and Hollywood starlets, including Peggy Hopkins-Joyce, a Ziegfeld girl turned socialite. Mr. Molina has walked the red carpet with celebrities bejeweled by Black, Starr & Frost.
Many important inventions and innovations were either financed or first used by Black, Starr & Frost including plate glass windows, the safe deposit box system, fire proof buildings and the light bulb, which was personally financed by Spencer Trask, the grandson of the founder of Black, Starr & Frost.
About Black, Starr & Frost
Founded in 1810 and purchased by Chairman, Alfredo J. Molina, Black, Starr & Frosts reputation for magnificent craftsmanship, value beyond price and uncompromising discretion has made us welcome in international circles of nobility and influence. Black, Starr & Frost has drawn the notice of private clients around the world, who often call for consulting and commission work. For more information visit: www.blackstarrfrost.com
###