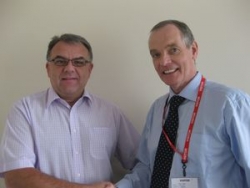 Boroughbridge, United Kingdom, May 06, 2011 --(
PR.com
)-- Concorde IT Group
(www.concordeitgroup.com
) one of the UK's leading IT support and managed service providers is implementing Intuitive Dashboards, the advanced business intelligence (BI) tool from Intuitive Business Intelligence Limited (
www.intuitivebusinessintelligence.com
), to enable them to improve the speed and accuracy of business decision-making across their organisation.
Intuitive Dashboards is the next generation of advanced BI software, empowering users to create a highly-interactive, graphical dashboard view of management data, based upon the metrics and KPIs that matter most to the business. By consolidating information from a range of data sources including spreadsheets, HR, finance and CRM systems, users gain a real-time viewpoint of their business performance, allowing faster and more accurate decisions to be made about potential performance shortfalls, trends and opportunities.
CEO of Concorde IT Group Colin Meakin commented, "I'm delighted that we're implementing Intuitive Dashboards. As a rapidly-expanding company, we recognise that we need to spend less time reviewing reports and spreadsheets and more time running our business. As Intuitive Dashboards links seamlessly into all our existing data systems, MS Dynamics, Sage and numerous spreadsheets, we now have a consolidated view of everything we need to know about our business presented with just the right amount of detail and in an easy-to-understand graphical format. It immediately alerts us to potential issues in the business, as well as highlighting opportunities, which will allow us to take any necessary corrective action and make quicker decisions to gain competitive advantage."
"Concorde IT Group has an excellent reputation for providing its clients with first-class services and technology-based solutions, "added Erick Mackay, Marketing Director of Concorde IT Group." To enable us to continue offering a premium service to our growing client base, we needed a powerful and flexible dashboard solution. Our policy is to implement best-of-breed technology and after extensive research, we selected Intuitive Dashboards. It is dramatically superior to other dashboard products on the market – easier to use, more scalable and much more flexible. These features are extremely important in enabling us to successfully manage the rapid growth of our four existing companies, as well as future acquisitions. Intuitive Dashboards enables us to significantly improve the speed and accuracy of our decision-making, resulting in an improved service to all our customers."
Tony Bray, Managing Director of Intuitive Business Intelligence stated, "I'm pleased to welcome Concorde IT Group to our fast-growing client base. Like many organisations, they've previously relied on reports and spreadsheets that were out of date as soon as they were produced. Using Intuitive Dashboards, they will now benefit from a graphical, real-time view of their management information, which will vastly improve the speed and accuracy of their decision-making and allow them to focus more time on running their business."
About Intuitive Business Intelligence and Intuitive Dashboards
Intuitive Business Intelligence Limited is a rapidly-growing technology innovator in the field of Business Intelligence (BI) software solutions. Their products enable organisations to save time and money by making faster, more accurate decisions based on the wide-ranging data sources and systems that already exist within their business.
Their flagship product, Intuitive Dashboards, empowers users with a single, consolidated, real-time view of critical business information, combined with proactive alerts to potential shortfalls in performance against the client's most important metrics and KPIs.
About Concorde IT Group
Headquartered in Leeds, England, Concorde IT Group is an IT support and technology solutions company specialising in the provisioning and ongoing 24/7 support of hardware, software and managed services. Operating within a range of business markets within the public and private sectors, Concorde's technology solutions help simplify business challenges. Concorde IT Group has a turnover of over £9 million and employs 75 staff based from offices across the UK.
###