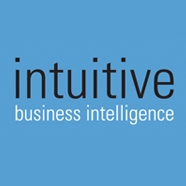 Intuitive Business Intelligence Ltd is the author of Intuitive Dashboards, the next generation of advanced Business Intelligence (BI) software. Our innovative solution empowers you to create your own highly interactive and graphical dashboard view of key business data, based upon the metrics and KPIs that matter most to you.
Intuitive Dashboards immediately alerts you to potential business issues and performance shortfalls. It provides a single, consolidated view of all your disparate management data, presenting the most relevant information in the right amount of detail and in an easy-to-understand graphical format, enabling you to quickly drill-down to the root cause of specific business issues.
Ultimately, it improves individual, team and organisational performance by empowering employees with the most relevant information for enhanced decision-making.
Unlike traditional BI software, our dashboard solution is intuitive, extremely easy to use and can be implemented in hours rather than months, swiftly delivering dramatic business benefits.