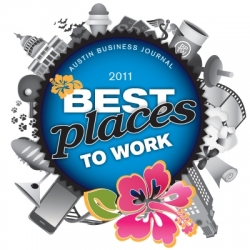 Austin, TX, May 11, 2011 --(
PR.com
)-- For the sixth year in a row, ProfitFuel and Outrank has been named as one of the Best Places to Work in Central Texas by the Austin Business Journal. On May 11th, Central Texas companies who have the best climate, team atmosphere, benefits and engaged employees will be honored during a luau-themed luncheon hosted at the AT&T Executive Education & Conference Center from 11:00am-1:30pm.
Employees said that one of the things they love most about working at the company is that they get to help independent business owners succeed. ProfitFuel and Outrank is a leading search engine optimization marketing company based in Austin, Texas. They work with over 10,000 small business owners to create an integrated online marketing strategy that increases their clients' sales growth by attracting new customers. "And we have a gong," exclaimed a member of the team. When benchmarks are achieved, team members make a celebratory trip to the gong as everyone cheers.
"We aim to make the workplace a very family-oriented environment – one where people enjoy coming to work and being involved," said David Rubin, CEO of ProfitFuel and Outrank. "In and outside of the office, we promote teamwork and encourage friendly competition to motivate team members to keep things fun. We are grateful that the Austin Business Journal recognizes and celebrates our unique culture."
ProfitFuel continues to grow and hire new talent to meet the needs of their expanding customer base. They are getting ready to launch a creative recruiting initiative at the Alamo Drafthouse Cinema, where they'll sponsor an "Office Space" Quote-Along. To see what else is going on at this vibrant Austin SEO company and to check out open positions, visit
www.profitfuel.com
.
ProfitFuel, parent company of Outrank, is a leading provider of local search engine placement services for small businesses nationwide. The company helps customers attract more phone calls by building an optimized website designed to rank highly in the search engines. With extensive search marketing experience, Outrank uses proprietary optimization techniques to achieve front page ranking in local search engine results.
ProfitFuel was founded in 2002 and has been named one of the fastest growing private companies in the U.S. by Inc. magazine; one of the fastest growing private companies in Central Texas and one of the Best Places to Work in Austin by the Austin Business Journal; and one of the Best Companies to Work for in Texas 2010 by Texas Monthly.
For more information on ProfitFuel and Outrank.com, including a consultation for your own local online marketing effort, call 877-332-4321 or visit
www.profitfuel.com
.
###