BagMyBags.com Announces it is Now Offering the New Boom Bag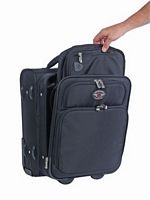 Ripley, TN, March 11, 2007 --(
PR.com
)-- BagMyBags.com would like to announce the release of a new product line. This product is excellent for the business profesional or any traveler who would like to take their audio speakers with them.
There are tremendous numbers of professionals currently traveling the globe making presentations on any number of things, and this number is growing. Presenters fully understand the hassles of lugging suitcases, sound systems, notes and computers from location to location.
The Boom Bag
The only way to make things easier on the presenter is to compact all that they carry into a single bag. If there was a way to make that sound speaker fit along with suits and laptops, the presenter would have it made. As luck would have it, someone has found a way to do exactly that, and with classy professionalism to boot.
The Boom Bag, available through
www.BagmyBags.com
, offers an entire sound system with speakers installed into a handy rolling bag. Other styles of bags are available as well, but many travelers prefer the ease of the rolling bag – especially in busy airports. Inside the rolling bag is ample space for clothing, shoes, accessories and, of course, the laptop.
The speakers and sound system are housed between the handles on the back of the suitcase so there is no wasted space within the bag itself. The suitcase also comes with a removable shoulder bag for laptops so the traveler can store the computer away with the rest of the portable office or pull it out for convenience while in a car or on a plane.
Many of the Boom Bags unzip for even additional storage, but still fit within airline standards so that they may be stored above the seat on the plane. Even if the traveler needs to check the bag, there is no need for concern. The Boom Bags are designed to be taken on the road and are ready for anything travel tosses their way.
The Casual Professional
Rather than practically shouting at audiences in order to be heard and avoid toting sound systems, or arriving sweaty and out of breath from hauling large systems to and from locations, the speaker can now appear at a client's location cool, calm, and collected. The single bag contains all that is needed for a week on the road.
It's hard for clients not to be impressed when the presenter pulls out the computer, microphone and speakers within the first few minutes of arriving. The additional pockets contained on and inside the bags assist with this organization as well.
The Boom Bag also is great for use with MP3 or portable DVD players. the traveler is no longer dependent on hotels to stock decent movies. Relax in the evening after a successful presentation surrounded by music and a level of satisfaction in another job well done.
###
Contact
Bag My Bags
Beverly Perry
731-612-5702
www.bagmybags.com/index.html

Contact