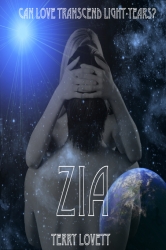 Celebration, FL, May 15, 2011 --(
PR.com
)-- The first book in the new young adult fantasy series, ZIA, was released today exclusively through Amazon, and is the work of debut novelist, Terry Lovett.
Lovett says she hopes teen girls will relate to the title's heroine, as well as the novel's other characters. Although Zia is the typical Caucasian teen lit heroine, the character's two love interests are atypical. They are both Asian - something the author says she has rarely (if ever) seen in American teen lit. When asked about her choice of ethnicity for the novel's two male protagonists, Lovett said, "The year before I began writing, I listened to nothing but my daughter and her friends gush over Korean boy-bands and K-dramas, so from the get-go, I knew that both Kiel and Kim would be Asian."
So, did Lovett have any particular Asian superstars in mind when she created Zia's love interests? The answer is yes. "I needed to have a certain look in mind as I developed the characters, so my physical basis for Kim was Choi Siwon (a Korean model and pop singer), and my basis for Kiel was Lee Min-Ho (a popular Korean actor)."
Although this is Lovett's first published work, she does not consider herself a new writer. "It's strange to hear myself referred to as a first time novelist, because I've been writing all my life," says Lovett. "I wrote my first story when I was eight years old." She carried that love of writing into high school, where she was editor of her high school paper, and into college, where she majored in Mass Communications.
Although headed toward a journalism degree, a turn of events during college led Lovett in a different direction. During the summer of her junior year, the family relocated from Texas to New Mexico, and on a whim, Lovett entered and won a local pageant, and then the state title. After taking off a year to travel and compete in the Miss America Pageant, (her talent was singing) the author never returned to complete her senior year. Instead, she continued to entertain locally, perform with the USO, and even make an appearance on The Nashville Network (now known as Spike TV).
She eventually married, moved back to Texas, and had two children; but when the marriage ended in 2002, Lovett says she literally packed up and ran away to Disney World. She is referring, of course, to the Disney Company's master-planned community of Celebration, Florida (and the setting for ZIA). The author says friends and family thought the move was a huge mistake. "They said living in Celebration wouldn't be what we expected, and they were right. It ended up being even better!" Lovett even fulfilled a lifelong dream of becoming a Disney cast member, and worked in Fantasyland at the Magic Kingdom.
When the writer's daughter graduated from Celebration High School in 2009, she decided to follow her older brother's lead, returning to Texas to attend college. By 2010, with her parents and both children living in the Dallas area, Lovett knew it was time she returned to the Lone Star State as well. After a failed attempt to step back into the business career she'd had prior to her son's birth, Lovett decided to pursue her first love – writing.
What developed was a sexy, sci-fi fantasy geared to young adults. "Although the novel is lighthearted, it's definitely PG-13," says Lovett. "But I don't want parents to worry. Zia remains virginal, if not virgin-esque, to the very end."
Lovett is currently working on the sequel, INAMORATA'S PASSAGE. For those needing a translation, the author says it literally means the journey of a girl who loves and is loved. ZIA is available in print version for $11.99 and on Kindle for $2.99.
###