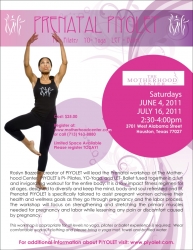 Houston, TX, May 27, 2011 --(
PR.com
)-- Is it safe to work out while pregnant? Piyolet, LLC will be inclined to tell you, yes it's safe. On June 4th and July 16th creator Roslyn Bazzelle will lead a Prenatal Piyolet workshop at The Motherhood Center (3701 W. Alabama, Suite 230, Houston, TX). Piyolet is a fusion of Pilates (PI), Yoga (YO) and Ballet (LET) designed for a fun, invigorating workout for the whole body. This method helps improve muscle strength, increase flexibility and posture as well as tone the core. The Prenatal Piyolet workshop is specifically tailored to assist expectant moms achieve their health and wellness goals during their pregnancy. The workshop will focus on strengthening and stretching the primary muscles needed for labor.
The BabyCenter Medical Advisory Board lists low-impact aerobics, which is no running or jumping, as a way to strengthen your heart and lungs. Regular movement and changing positions is also suggested to be helpful to the blood flow to the baby. Exercise during pregnancy can reduce stress and discomfort. Prenatal Piyolet requires no Yoga, Pilates or Ballet experience, which will allow even the avid couch potato to engage in an exercise routine.
Prenatal Piyolet started as a session with the Honey Child Program at Wheeler Avenue Baptist Church, and was recently featured on NBC local affiliate KPRC Channel 2. The Motherhood Center is the premier resource for expectant moms in the Houston area. As a new mother of a five-month old baby boy, Roslyn understands the importance of exercise during pregnancy. She enjoys sharing her experience and knowledge with moms-to-be. "I went to classes at the Motherhood Center during my pregnancy, and I'm pleased to present Prenatal Piyolet to its members."-Roslyn
Registration is now open for $25, however limited space is available. Interested participants can register at www.motherhoodcenter.com or call 713-963-8880.
Piyolet, LLC is a fitness company which provides classes, fitness DVDs and health & wellness education through the fusion of Pilates, Yoga and Ballet.
###