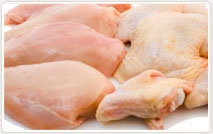 Denver, CO, May 28, 2011 --(
PR.com
)-- JS Food Brokers LLC, offers CO2 Fresh-Pads to meat, poultry, seafood and produce processors to extend the shelf life of perishable food products. As master broker and marketing arm for CO2 Fresh-Pads patent holder CO2 Technologies Inc., JSFB has signed on several large poultry processors to test the CO2 pads in a production environment, the goal being to gain additional shelf life without using expensive equipment, chemicals or any process that directly alters the food itself.
"While top food industry economists are saying, 'It's going to be a tough year,' for consumers, livestock producers are getting slammed with higher feed prices. One of our biggest selling points right now is the positive return on investment meat and poultry processors are getting because of the additional shelf life and the ability to offer a higher quality product." – Steve Josephs, CEO, JS Food Brokers LLC
Shamrock Foods, in Colorado, Arizona and New Mexico, offers one of the top premium brands of fresh 100% natural chicken. With an extended shelf life beyond what is standard for commodity chicken, Shamrock is setting the standard for all "natural" poultry in the foodservice industry.
"Our new 'Regal Crest Farms' 100% all natural chicken requires the highest standard of quality for taste, flavor and tenderness. Using the CO2 Fresh-Pads helps our Regal Crest brand maintain that high standard for longer shelf life with less shrink, to meet our customers demand for excellence." – Mike Brown, Manufacturing Division Consultant, Shamrock Foods
Fresh-Pads use a unique CO2 generating technology incorporated in a physical pad that modifies the atmosphere surrounding perishable food for an extended period of time. The results include less purge, longer shelf life, and improved texture, color and smell, thereby improving the marketability of the food.
CO2 Fresh-Pads gradually generate carbon dioxide, a natural atmospheric gas, in a controlled manner to retard bacteria growth from 20%-50% on perishable foods, significantly reducing purge and spoilage to provide safer fresher food. With the government's new Food Safety requirements for food processors, the addition of a product that's proven to reduce bacteria growth in fresh meat, poultry and seafood can be a real benefit.
In contrast to other food preservation technologies, CO2 pads provide an all-natural solution without resorting to the use of expensive equipment, chemicals, preservatives or high heat processes that can affect the integrity of the product or add substances that today's consumers find undesirable.
If you'd like a free trial program or more information about CO2 Fresh-Pads or to contact JS Food Brokers LLC, please call 720-475-0330 or email info@jsfoodbrokers.com or visit www.CO2Pads.com.
###