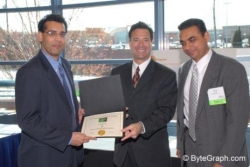 Atlanta, GA, March 19, 2007 --(
PR.com
)-- Intelligium, LLC has been selected as one of the Top 40 Innovative Technology companies in Georgia by the Technology Association of Georgia (TAG), the state's leading technology organization.
The TAG Top 40 companies were chosen based on a number of criteria, including: degree of innovation; scope and financial impact of innovation; likelihood of success; and promotion of Georgia's innovative efforts nationally and internationally. Companies selected to be in the Top 40 participated in a showcase exhibit at the Georgia Technology Summit, attracting some 800 of the state's technology leaders. "Our congratulations to Intelligium for making this year's Top 40 list," said Tino Mantella, President of TAG.
"We are honored to have our efforts recognized by the Technology Association of Georgia. Intelligium's complete and undivided focus on customer acquisition and retention coupled with Intelligium's outstanding delivery methodology in Enterprise Systems Management has resulted in Intelligium gaining this prestigious award," said Naushad Ahmed, President & CEO. Amit Mitter, Managing Director added that Intelligium has built a strong IBM Tivoli practice to serve its ESM customers nationally and its operational efficiency and attention to quality have resulted in Intelligium's exceptional growth and customer satisfaction.
About TAG
The Technology Association of Georgia (TAG) is a non-profit organization whose mission is to support its members by generating opportunities for personal, professional and business growth. By forging strategic alliances, TAG serves as a primary catalyst to foster a rich environment for economic development in Georgia's technology community.
Founded in 1999 through the merger of the Business & Technology Alliance (B&TA), the Southeastern Software Association (SSA) and Women in Technology (WIT), TAG is one of the largest state technology associations in the nation. TAG is made up of 2,800 members representing technology leaders from over 1500 Georgia-based companies, affiliated technology and business organizations. For more information on the Summit visit www.tagonline.org, email info@tagonline.org or call (404) 817-3333.
About Intelligium
Intelligium is a world class Technology Services Firm that focusses in the areas of Enterprise Systems Management, (Security Management, Server, Network & Device Management) and Data Warehousing & Business Intelligence and assists its clients in planning and executing their investments in technology, design, and implementation of IT projects globally. To enable its customers manage their hiring and contingent services needs, Intelligium offers a web based Talent Acquisition System (intelliTAS) that can radically improve, measure and simplify the entire workforce acquisition process. Intelligium provides its services across technical skill sets enterprise wide, and mines its extensive database of qualified consultants across technologies, to deploy the most optimum resources for you. For more information on the Intelligium, visit www.intelligium.com.
For More Information:
Intelligium, LLC, Tammie Cage, (770)-521-4432, Tammie@intelligium.com
TAG, William Marks, (404) 510-9347, bmarks@markspartners.com
###