New Memoir Elicits Life of Dying Man as Seen by His Brother
"Proud Pants: An Unconventional Memoir" (ISBN: 978-0-9836049-2-1) is Gregory G. Allen's first novelette. Just released by ASD Publishing as an eBook, it tells the story of a thirty-four year old man who recalls his life as he lies dying. Told through the voice of one man, but written through the words of his brother.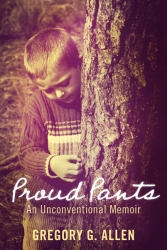 Hawthorne, NJ, July 15, 2011 --(
PR.com
)-- When author Gregory G. Allen was nine years old, he remembers picking up a lead pipe prepared to hit his fourteen-year-old half brother to protect the woman that raised them both. That brother died two hours after Allen's twenty-ninth birthday at the young age of thirty-four from a brain tumor. "I grew up in my life not really liking my older brother," Allen said. "Though everyone can have different memories of the same experience, mine were full of pain and heartache he had caused our family."
Throughout the years, Allen often thought about how his brother shaped who he eventually became as a person as he attempted to live a different life than that of his tortured older sibling. Though Allen believed that brother was offered the same opportunities he had been given, he could not overlook the rough existence of his addiction, abandonment from his birth mother, and anger the brother dealt with his entire life.
"In an attempt to make peace with the man I could never fully comprehend, I decided to get inside of my brother's skin to write the memoir of his life," Allen said. When writing a memoir people will recall situations in a different way and this unique approach of giving voice to a man who is gone has proven therapeutic for its author. "Addiction can destroy so many people's lives," Allen said. "Not only for those that live in the middle of it, but for those left behind for generations to come."
"Proud Pants" shares the story of a life compared to a novelette - too long to be considered a short story and too short to be a novel.
"Proud Pants: An Unconventional Memoir" (ISBN: 978-0-9836049-2-1, eBook, .99, Memoir) from indie book publisher ASD Publishing, is distributed through Book Baby and available for the Kindle, the Nook, iPad, and Sony Reader.
About Gregory G. Allen
Gregory G. Allen has been in the entertainment industry for over twenty years as an actor, director, producer, songwriter, playwright, and author. He has had over a dozen short stories, poetry and stage musicals published and produced and his debut novel "Well With My Soul" will be out in October. www.ggallen.net
About ASD Publishing
ASD Publishing is an independent book publisher based in New Jersey specializing in thought-provoking literary fiction, memoir, and self help non-fiction. www.asdpublishing.com
###
Contact
ASD Publishing
Anthony DiBella
973-280-0145
www.asdpublishing.com

Contact