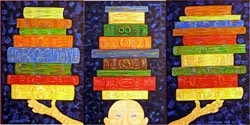 Mahwah, NJ, March 28, 2007 --(
PR.com
)-- Robert Gaudreau ponders thought back to his self taught learning experience days in becoming a painter.
Starting with the books, and hands on trial and error attempts to establish a work ethic has led Mr. Gaudreau to create his current series titled "Something About Books", an important conceptual series of 33 oil paintings dedicated to and inspired by the importance of education.
An Abstraction in education... and a progression into the learning. Starting with "1 Book" through "48 Books" this series of paintings hints and references to the fate of the future for the book vs. the digital revolution.
Mr. Gaudreau states "Everyone still loves the feel of a book regardless, only time will tell."
"Something About Books" continues to follow whimsical gestures towards the fun in learning. A progression in through the learning and accumulative of reference be had in the process view of the 33 paintings.
Coloration, books placement, unmarked bindings leaving to imagination of the viewer to its contents.
A Must See exhibit of select paintings from the "Something About Books" series if you are in the New York City area in May 2007.
"Catalyst of the Incandescent"
Group Exhibition title in NYC May 2007 at:
Amsterdam Whitney Gallery
511 West 25th Street 4th floor
New York, New York 10001
212-255-9050
Dates: May 4th - 29th 2007 Reception: Thursday, May 10th 2007 from 6:00pm - 8:00pm
###