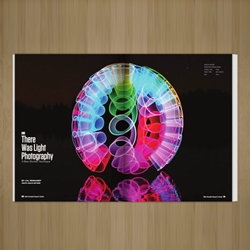 New York, NY, August 02, 2011 --(
PR.com
)-- Great advertising does more than sell product. It informs, intrigues and inspires. The B&H custom branded magazine transcends the traditional advertising barriers between brand and customer by forming a bond based on real value. SBG is a publication packed with insights, how-to articles, technology reviews and in-depth interviews with digital media pros. "We wanted to do more than just talk about gear," says Brad Bitton, head of YODI. "Good photography, videography and audio production go beyond equipment. You need knowledge, technique and creativity."
YODI tapped their passion for digital media to create the 100-plus page publication dedicated to all things digital media. This issue covers everything from photography lighting setups to building home studios to astrophotography. It was critical to publish highly valuable and authoritative articles, says Bitton, since B&H is known as The Professional's Source for gear. It's known for delivering solid information and advice. That meant all the content had to be well researched, precise and engaging.
Working with a team of professional writers/users that spanned the globe, YODI planned and crafted the content for the magazine. Articles had to appeal to students, so each topic is covered from a budding professional's perspective. The content provides valuable advice and information to earn their trust and form a bond with the B&H brand for years to come.
SBG is also packed with more than 125 gear reviews. YODI picked an array of cameras, accessories and authoring tools that appeal to students—both in features and price. Students have limited gear budgets and need as much bang for the buck as they can get. Each product was evaluated and reviewed with a student's needs in mind.
YODI designed SBG to be visually intriguing to a young and vibrant student market that aspires to be professional digital content creators. The design had to embody creativity, technology and knowledge. It had to be clear and packed with information and original compelling artwork throughout. The cover represented the current trend in 3D that's sweeping every field of digital media, including photography, filmmaking, audio engineering and graphics. To do it, YODI enlisted talented papercraft artists to build miniature sets representative of each field. The result is stunning, a mesmerizing montage of artists working to bring 3D to life.
Tidbits of technical information were dispersed throughout the magazine to entice and inform readers—and to offer readers easily digestible bits of info. Each section—photo, video, audio, and graphics—was represented by a different color to make navigating the comprehensive publication quick and straightforward.
The publication, says Bitton, was challenging, but rewarding. "It's an exhilarating and gratifying project," he says. "We're all creatives at YODI. SBG is our opportunity to inform and inspire other creatives. It doesn't get much better than that."
About YODI
YODI is a creatively driven advertising partner for companies with a unique approach to engaging customers. YODI is uniquely positioned to handle a wide array of services like naming, branding, packaging, interactive development, advertising and content marketing. For more information about YODI, please contact brad@yodigroup.com
###