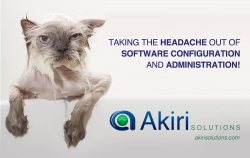 Palo Alto, CA, August 09, 2011 --(
PR.com
)-- Akiri Solutions, Inc. today announced the new
DevBox-EZ
– a free version of its popular integrated solution the DevBox. The DevBox is a web-based virtual appliance that provides all the tools necessary for implementing new software projects – all fully integrated with unified access control. Source code control is provided by shared and authenticated Git repositories, which users create in just seconds.
The DevBox offers integrated bug and issue tracking that is simple to use and eliminates the need for purchasing and setting up a separate tool. Other cost savings features include automated backup, which can be scheduled at any time with a click of the mouse and project-based built-in wikis that help ensure important project knowledge can be easily captured. The easy-to-use file sharing capability simplifies the painstaking process of adding or deleting users and managing permissions versus using ftp sites or shared file servers.
"We are very excited about the release of our DevBox-EZ," said Matthew R. Laue, CEO of Akiri Solutions. "Not only will offering a free version of our product help thousands of software developers and small organizations, it will also help accelerate the migration and adoption of GIT as the source code management system of choice!" continued Laue.
The DevBox-EZ is free for up to three users. Larger versions of the DevBox are sold based on number of users; the entry-level price for up to 10 users is just $995.00. The hosted version for 10 users is $49.00 per month.
To see how the DevBox can significantly reduce development costs and project schedules download your free version at
www.akirisolutions.com.
About Akiri Solutions
Akiri Solutions, Inc. was founded in 2010 and is headquartered in Palo Alto, California. Akiri's mission is to develop and deliver innovative products and services that streamline the design, collaboration and administration of the software development process. For more information call 650.485.3638 or visit www.akirisolutions.com.
###